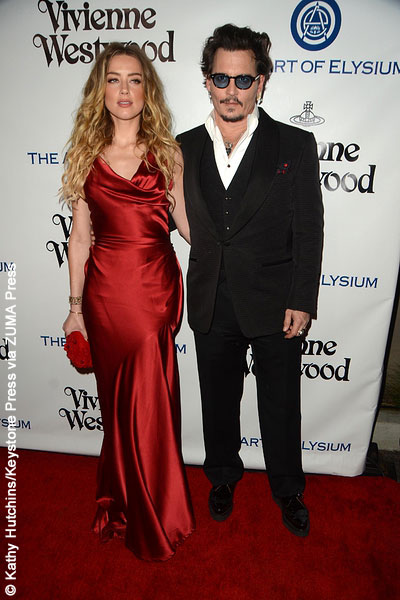 In court on Friday, Amber Heard, who showed up with a slight bruise on one cheek, alleged she suffered abuse at the hands of her husband, Johnny Depp, when he threw a cell phone at her a week ago. The argument was supposedly about his mother, who was on her deathbed.
Amber went public with her abuse claim after Depp's lawyers rejected her request for $50,000 a month in support, $125,000 for her legal fees, ownership of their Los Angeles penthouse and his Range Rover and custody of their Yorkshire terriers.
A judge granted her a temporary restraining order against Depp and temporary possession of the penthouse.
Police officers came to their home when called by Amber the day before she filed for divorce, but LAPD Sgt. Marlon Marrache told people.com: "On May 21, 2016, officers responded to a domestic incident radio call… The person reporting the crime [Heard] did not insist on a report and no report was warranted. There was no evidence of any crime. A crime did not occur so the officers left the scene and left a business card."
Because there was no prenup, Amber is entitled to half of what Johnny earned during their marriage, which lasted a little over one year. That amount has been estimated to be $40 million, of which Amber would get $20 million.
However, divorce lawyer Suzanne Bracker told the New York Post that expenses during their marriage will be deducted from the income. She explained, "If he made $30 million and he spent $30 million, you're SOL."
Another divorce attorney, Laurence Greenberg said, "It's highly unlikely she'll make much, based on the brevity of the marriage. However, the allegations of domestic abuse might encourage a quick and possibly lucrative settlement."
Depp's family has come to his defense. His ex-partner Vanessa Paradis, with whom he has two children, released a letter yesterday stating: "He is a sensitive, loving and loved person, and I believe with all my heart that these recent allegations being made are outrageous." His daughter Lily-Rose has also spoken out, calling the allegations nonsense.