Amber Heard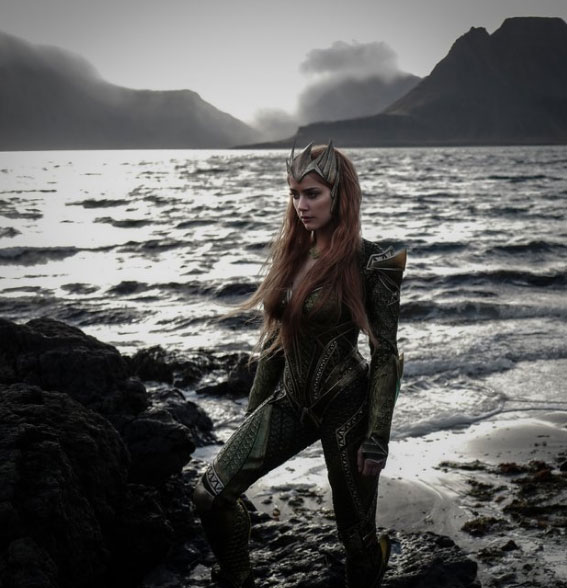 is slipping into the chilly waters of Alaska for Zack Snyder's Justice League and the first image of her in character has surfaced.
Now that production on the film is beginning in The Last Frontier, Amber is taking the plunge. In the film, she plays Mera, queen of Atlantis and love interest of Aquaman (Jason Momoa).
IGN released a photo of Mera's concept art — produced by designer Michael Wilkinson and illustrator Ian Joyner — and Zack posted a still image of Amber suited up as Mera (which he snapped himself!). She can be seen sporting a sharp and intricate headpiece as well as a green-scaled costume.
Aside from Amber and Jason, Justice League will bring together Ben Affleck as Batman, Gal Gadot as Wonder Woman, Henry Cavill as Superman, Ezra Miller as The Flash,  J.K. Simmons as Commissioner Gordon and Ray Fisher as Cyborg.
The film is expected to launch onto the big screen on November 17, 2017.
Although Mera will play a role in Justice League, she's expected to take on a bigger part in James Wan's July 2018-scheduled Aquaman.
Take a look at the concept art and Amber's photo below.
What do you think of queen Mera's look? Share your thoughts with us! ~Matthew Pariselli
We have your very first look at Amber Heard as Mera, queen of Atlantis and wife of Aquaman, in #JusticeLeague https://t.co/O7bIxdND65 pic.twitter.com/CxFIBX7Ik2

— IGN (@IGN) October 12, 2016
Saw this hydrokinetic vision come out of the sea and snapped a photo with my Leica. pic.twitter.com/rwU54XzScK

— Zack Snyder (@ZackSnyder) 12 October 2016