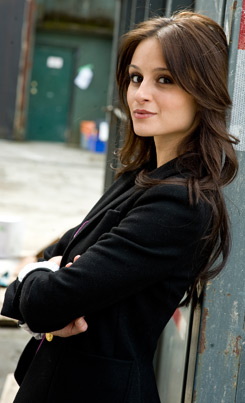 Interview: Melanie Papalia
American Pie Presents: The Book of Love
– By Ethan Krebs
American Pie Presents: The Book of Love is the seventh installment in the American Pie franchise, which returns to the original feel of the first three films. In this version, three new hapless virgins discover the "love" bible hidden in the school library at East Great Falls High. Unfortunately for them, the book is ruined, and with incomplete advice the Bible leads them on a hilarious journey to lose their virginity.
One of the film's stars, Vancouver-based actress Melanie Papalia, recently spoke to Tribute about meeting icon Eugene Levy, working with the cast and how she feels privileged to be part of this popular series.
Are you fan of the American Pie Franchise?
Papalia: I definitely am. I have been watching the movies from a young age, probably since I was about 15. I have been a fan from the get-go.

Why do you think the American Pie movies are so popular?
Papalia: The first American Pie really sets the genre. It is the first movie of its kind. It has a new sort of humor that includes more sexuality and teen angst. It's iconic because was the first of its kind to go there. Every single American Pie movie after the original has become a classic and is so hilarious.
What did you like about playing your character Dana?
Papalia: I loved her wackiness. She was pretty crazy. She flips back and forth between being this pristine Christian god lover to psycho sexual vixen. It was really fun not to play some who is not one-note. It is always fun to play someone crazy.
Did you personally get any tips from the movie's "Book of Love?"
Papalia: (laughs) Well, the book is really about sexual pleasuring secrets, so I don't know if I got any tips about love from the book. I guess you could say the message of the film is that when it all boils down to all the silly games we play to find love, when you finally find that special someone none of that stuff really matters.
What was it like working with all the other cast members?
Papalia: There was never a dull moment. I was laughing from the second I got there until the second I left. It was hard to keep a straight face in a lot of those scenes. Everyone they hired was hilarious! You know when people say, "Oh that person is really funny on-screen but they are super shy off-screen?"  There wasn't anyone like that on this set.
Is there a scene you enjoyed shooting most?
Papalia: To be really honest, everything was amazing. I made really great friends with two girls who play my friends in the movie, Beth Behrs (who plays Heidi) and Louisa Lytton (Imogen). Everything we got to do together was fun. Kevin Horton (Nathan) who plays my boyfriend is probably one of the funniest guys I have ever met. Everything we did together he would crack me up. Every time I got to be mad at him in a scene was also a lot of fun. It was like a love-hate relationship on that set but love-hate in a very playful way.
Veteran actor and comedian Eugene Levy returns as Mr. Levenstein. I know you did not have any scenes with him but did you get to meet him?
Papalia: I did get to meet him! It was such a moment for me because he is such an icon for the comedic genre and also because he is Canadian, too. It was just so cool. We had lunch together one day and we did some photo shoots together.
Being from Canada, how did you first get started in the film industry?
Papalia: I always wanted to act since I was a little girl. I started out as a dancer and got my first agent when I was 17 and then just started auditioning in Vancouver. I started small parts on Smallville and other shows that film in Vancouver and made my way from there.
What advice do you have for Canadian actors trying to get a break?
Papalia: In this business you need to have a very strong sense of self worth because one day everything is amazing and the next day maybe it's not and you need to sort of keep your spirits up. You are never going to be able to control the decisions that other people make or what they are going to say about you. Coming from Canada, some people feel it's a bit harder because we do not have the same amount of opportunities but you need to look at such Canadian actors Eugene Levy, Rachel McAdams and Ryan Gosling and see that they've made it.
You have a new movie coming out starring Halle Berry. Can you tell me a bit about that?
Papalia: Yes, it's called Frankie and Alice. It is set in the '70s and it's based on a true story. Halle plays a woman who has multiple personality disorder and it was truly amazing to watch her go through what she does in this movie. I remember years back I went to an acting seminar with someone who coached Halle for Monster's Ball and I remember thinking, "this is the closest I will ever get to Halle Berry." When I went to my first rehearsal with her I remembered that thought and I chuckled to myself thinking, "this world really works in mysterious ways because now I am actually going to sit across from her and rehearse scenes." The second you meet her she puts you at ease that you forget she is a big Oscar-winning star. She treats everyone so well.
Do you have anything else coming up?
Papalia: I just finished a film called Confined. It's a true story of a girl about a girl who was caged in the basement of her house by her parents when she was young because she witnessed the murder of her older brother. Plus, I have a movie called Hybrid, which is like the horror Christine. It's about a killer car and it's not a hybrid environmentally friendly car either!