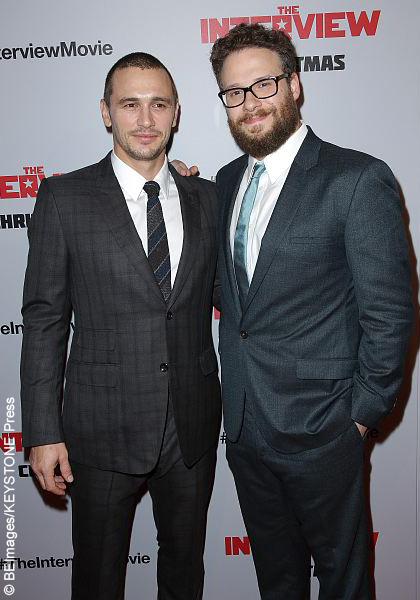 The Sony hackers who call themselves the Guardians of Peace released an ominous message yesterday threatening an attack on upcoming screenings of The Interview. The film, which follows interviewer Dave Skylark (James Franco) and producer Aaron Rapaport (Seth Rogen) who — after surprisingly landing an interview with North Korea's Kim Jong-un — are recruited by the CIA to assassinate the dictator, is set to hit theatres on Christmas Day. However, following a menacing message, some theatres have already dropped the film from their roster.
The hackers threatened a "bitter fate," referencing a 9/11 style attack for both viewers and homeowners nearby in their inflammatory message. Amidst the threat stars James Franco, 36, and Seth Rogen, 32, have taken the necessary precautions and cancelled all media appearances for the film. As well, the New York premiere, which was scheduled to take place today, was cancelled.
The U.S. Department of Homeland Security has responded to the message and stated that, "At this time there is no credible intelligence to indicate an active plot against movie theatres within the United States." According to CNBC sources Sony is still planning to release the film, but understands if theatres choose not to run it. So far five of the top theatre chains in the U.S. have decided not to show the film – Regal Entertainment, AMC Entertainment, Cinemark, Carmike Cinemas and Cineplex Entertainment. Major Canadian chains such as Cineplex, Landmark, Guzzo and Rainbow have also all pulled showtimes for the film. ~Janine Wyslobicky
Update: Sony has cancelled the Christmas release of The Interview. A federal investigation into the threats has been launched. American officials believe North Korea is behind the hacking of computers and emails belonging to Sony Pictures, as well as the threats involving The Interview.