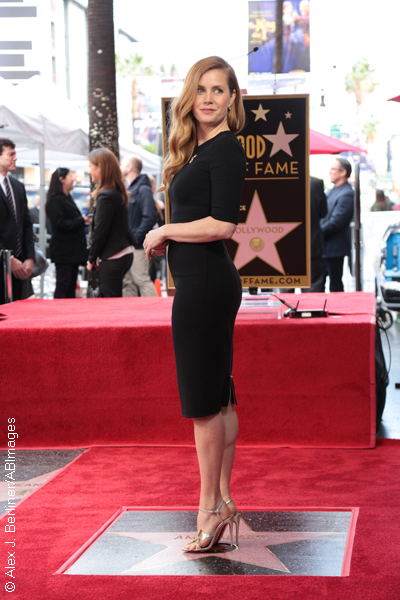 Amy Adams is the latest actor to receive a star on the Hollywood Walk of Fame. The ceremony took place yesterday (Jan. 11) at 6280 Hollywood Boulevard and was attended by Amy's Arrival director, Denis Villeneuve, and her co-star, Jeremy Renner. Also on hand to give support were Amy's husband Darren Le Gallo and their six-year-old daughter, Aviana.
Denis gave the opening speech, in which he called her "a very important artist," adding, "I deeply love you. Thank you."
Jeremy then took the podium to give a humorous speech in which he revealed that they first met at a karaoke bar in 1999, adding, "As an actress, she has won 60 awards, 174 nominations. Nominated seven Golden Globes, five Oscars. She worked at Hooters."
Amy spoke to the crowd, saying, "When I first drove onto the Disney lot – I think it was January 21, 1999, not that I'm keeping track – but that was my first audition in Los Angeles, and I never, ever expected that it would lead me to this moment and receiving this honor."
She also spoke about how much changing her hair color changed the course of her career, saying, "Based on roles that I was getting called in for, people were responding to certain types of characters with me as a blonde and the minute I went red, it was quirky and fun instead of flirtatious and dumb. It was great, I liked that. But in all seriousness, it's just hair color. It was really fascinating to see just one element of yourself change people's perception and that became a very powerful tool for me even in my acting."
Amy's is the 2,598th star on the Hollywood Walk of Fame. She can currently be seen on the big screen in Arrival, which was nominated for two Golden Globe awards, including one for Amy in the Best Performance by an Actress category. She is also nominated for a BAFTA Film award and a SAG Award for her performance in the film.