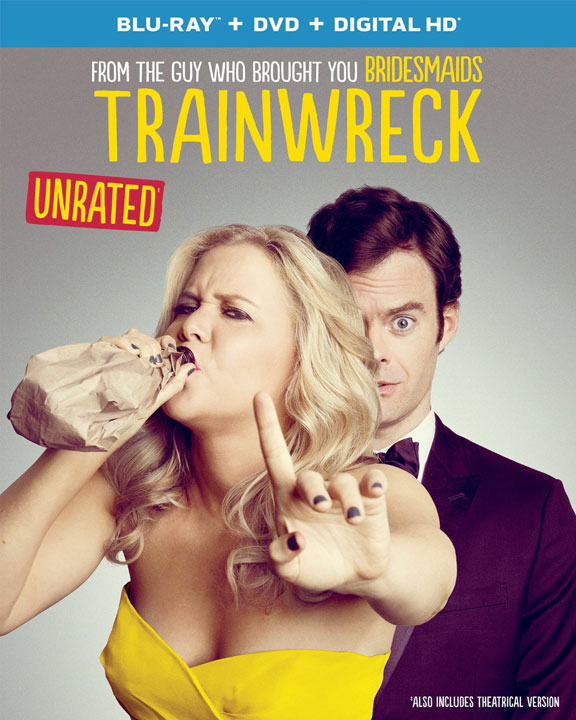 Before seeing Trainwreck, I was only vaguely aware of Amy Schumer as a comedian. I did not have high hopes for this film and went in with tunnel vision.
Yes, she is crass. And yes, pretty much anything goes. Sometimes, you get lost in the in-your-face gags and there are copious amounts of those, but you have to be patient. Underneath it all, this romantic comedy picks up steam, and with its love story and subtle message, Amy ends up on the right track.
Voted class clown in high school, Amy, 34, began her stand-up comedy life in 2004 in New York City. In 2007, she made it to the finals of Last Comic Standing, eventually placing fourth.
Trainwreck is the first screenplay she has written and it is autobiographical to some extent. Her sister in the movie shares the same name as her biological sister. Her father, both in the movie as well as in real life has been diagnosed with multiple sclerosis. Finally, the fact that divorce occurs both on and off screen isn't lost either.
Judd Apatow, well-known for his work on The 40-Year-Old Virgin and Funny People, directed this one as well. This is the first time Amy takes the lead role in a film, and she is supported by a great ensemble cast, including SNL alumnus Bill Hader, Brie Larson, Tilda Swinton, Ezra Miller and even more, including a few extra surprise guest stars, but let's not go there so you can be…surprised.
The premise of the movie is simple: from childhood, Amy was indoctrinated by her father that monogamy isn't the way to go. Fast forward 23 years. By day, she writes for the men's magazine called S'Nuff, and by night she is a party girl who uses alcohol, drugs and promiscuity to keep her from commitment. She has rules and they include no sleepovers.
Then she gets an assignment to write about a New York sports doctor, and while he appears quite boring to her at first, Dr. Aaron Connors (Hader), begins to charm her. While she isn't the easiest woman to fall in love with, he is equally enchanted by her. Go figure. Now Amy has a problem because she is breaking her own rules.
We have seen this in rom-coms before. The difference here is that the gender roles have been reversed, and it's about time. Amy, when she isn't being fresh, is fresh in the other way. Honest, cute and sometimes, even endearing. Hader is wonderful as the understated romantic lead: sweet, thoughtful and funny in his own way. He sees through the party girl and her shtick. Before you know it, you're rooting for him.
Nothing is off limits in this film. Nothing is too intimate or inappropriate. No one escapes criticism, and some parts are not for the faint of heart. I'm not talking horror, just bad taste, but the great Mel Brooks once said: "Bad taste is simply saying the truth before it should be said." There are also funny scenes with laugh-out-loud moments, as well as some touching scenes that save the movie. Amy's plan involving the New York Knicks Cheerleaders is original and a great metaphor. You need to see the movie to understand that one.
The Blu-ray and DVD combo package comes with lots of added features, including deleted scenes, a gag reel, and a feature commentary with director Judd Apatow and Amy Schumer. ~Sharon Salsberg