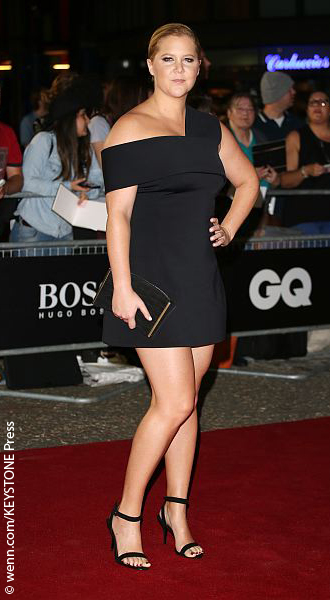 Amy Schumer has a message for her incessant body shamers: "I am strong and proud."
After news hit last Friday (Dec. 2) that she was in talks to star in an upcoming live-action Barbie movie, the Emmy-winning comedian shot back at the trolls who labeled her "too fat" to play the iconic role.
In a powerful Instagram post released on Tuesday (Dec. 6), Amy shared a Fameflynet photo of herself wearing a skin-tight black swimsuit (the same one from earlier this year) alongside a lengthy and passionate caption blasting the notion that she should somehow be ashamed of her body.
"Very very honored to be nominated for 2 Grammys and to be considered to play an important and evolving icon," the actress began. "Is it fat shaming if you know you're not fat and have zero shame in your game? I don't think so. I am strong and proud of how I live my life and say what I mean and fight for what I believe in and I have a blast doing it with the people I love. Where's the shame? It's not there. It's an illusion."
She continued, "When I look in the mirror I know who I am. Im a great friend, sister, daughter and girlfriend. I'm a badass comic headlining arenas all over the world and making tv and movies and writing books where I lay it all out there and I'm fearless like you can be."
The Trainwreck star then showed her appreciation for both her supporters and naysayers, writing, "Thanks to everyone for the kind words and support and again my deepest sympathy goes out to the trolls who are in more pain than we will ever understand. I want to thank them for making it so evident that I am a great choice. It's that kind of response that let's you know something's wrong with our culture and we all need to work together to change it."
Amy finished off the poignant post with an empowering message that called upon everyone who has felt disenfranchised to just "laugh at the haters."
"Anyone who has ever been bullied or felt bad about yourself I am out there fighting for you, for us. And I want you to fight for yourself too! We need to laugh at the haters and sympathize with them. They can scream as loud as they want. We can't hear them because we are getting shit done. I am proud to lead by example. "I say if I'm beautiful, I say if I'm strong. You will not determine my story. I will #thegirlwiththelowerbacktattoo."
The film, set for release sometime in 2018, reportedly follows Barbie as she gets kicked out of Barbieland and has to fend for herself in the real world.~Shelby Morton
What do you think about Amy's response to the backlash? Are you excited to see her as Barbie? Share your thoughts with us below!