An American in Paris – musical theatre review
By Alexandra Heilbron on March 31, 2018 | Leave a Comment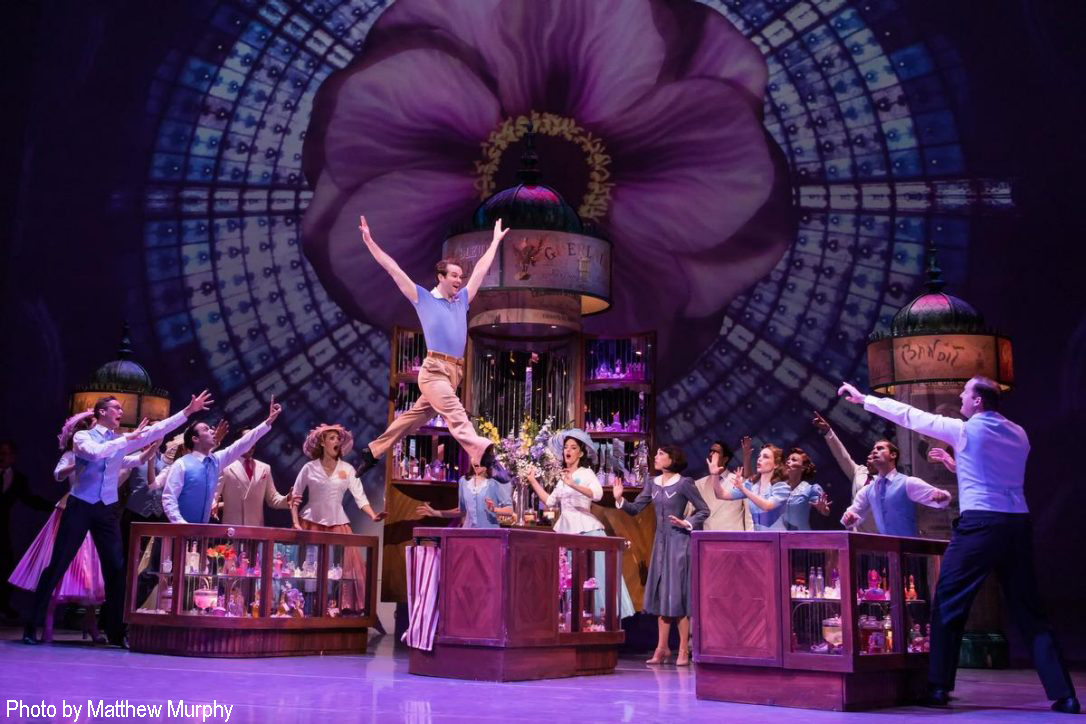 An American in Paris begins right after WWII, as Parisians are sighing a breath of relief to finally be rid of the Nazis. But they haven't quite yet recovered. They wear what they went through as a coat of armor.
In walks Jerry Mulligan (McGee Maddox), a cheerful American soldier and aspiring artist determined to put the past behind him and enjoy all that Paris has to offer. He strikes up a friendship with fellow American Adam Hochberg (Matthew Scott), a composer who has been injured in the war. Adam is coaching a French man named Henri (Ben Michael), who would like to be a singer.
During intricately staged dance vignettes, Jerry has random encounters with a beautiful brunette named Lise (Allison Walsh), but she disappears each time before he can get to know her. In the meantime, he meets a wealthy woman named Milo (Kirsten Scott), who is more than happy to use her money to support the arts. Thanks to Milo hiring him to do sketches of the ballet, Jerry finally meets Lise when she auditions for the ballet company. However, she refuses his advances because of what she went through during the war. She has obligations to Henri's family, so she can't commit.
To confuse matters further, Adam has also fallen for Lise. As Adam, Matthew Scott puts in the strongest performance of the night. Having performed the role on Broadway, his character is multi-layered, and when he gets a chance to dance, he proves he's up to the challenge. However, it's his singing that wins the audience over — when given the opportunity to solo, his voice absolutely soars.
The two leads, McGee Maddox as Jerry and Allison Walsh as Lise Dassin, are accomplished ballet dancers and their performances are extraordinary. Maddox was a Principal Dancer with The National Ballet of Canada while Walsh was a soloist with The Joffrey Ballet, and their dance moves are exquisite. They both have remarkable stage presence and are able to equally handle the singing and acting required of them with ease.
If you're a fan of ballet, you'll love the dancing in the stage version of An American in Paris. The intricate numbers offered up by the energetic corps is beautifully performed, with bright costumes that make the numbers a treat for the eyes. Unlike some shows, that focus on singing or only have a few dance moves performed in the background, An American in Paris features dancing throughout.
While the vocal performances from the leads are good, it's their dancing that's breathtaking and makes the entire show worth the price of the ticket. Although technically a new musical, it's based on the 1951 movie musical starring Gene Kelly and is packed with '40s and '50s music and humor, so if you like classic musical theater, you will love An American in Paris.
An American in Paris runs from March 27 to April 29 at the Princess of Wales Theatre. Click here for more information or to buy tickets.
---
---
---