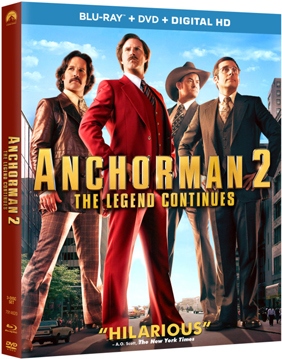 Will Ferrell reunites with Steve Carell, Paul Rudd, David Koechner and Christina Applegate in Anchorman 2: The Legend Continues, the sequel to the 2004 original movie.
Anchorman: The Legend of Ron Burgundy left its fans wondering what would happen to Ron and his crew in the future. It's the mid-1980s now and Ron (Ferrell) and his wife Veronica Corningstone (Applegate) co-anchor the national news in New York. When Ron's veteran newsman boss (Harrison Ford) fires him and promotes Veronica instead, Ron ends up at Sea World, announcing performances and drunkenly insulting dolphins.
After an unsuccessful attempt to hang himself from a ceiling lamp and a surprise offer from GNN, Ron and the members of the San Diego news team head to the Big Apple for a new revolutionary venture – a 24-hour newscast.
Anchorman 2 reintroduces the old gang: sportscaster Champ Kind (David Koechner), weatherman Brick Tamland (Steve Carell) and field reporter Brian Fantana (Paul Rudd).
The movie also introduces a new character, GNN office worker Chani (Kristen Wiig), with whom Brick falls in love, though it seems like an overplay of the Brick card on the part of the screenwriters. When the two characters are romantically paired, the level of Brick-ness skyrockets, making the screen presence of these two characters uncomfortable and bizarre.
The two-hour long movie has a number of scenes that could be cut out without damaging the flow or general message of the film. At times, Anchorman 2 gives the impression that the movie's creators are shooting blind, seeing which jokes will stick.
One of the best scenes – the news teams' battle – takes place during the movie's final leg when a plethora of celebrity news anchors clash with each other in Manhattan. The scene offered amazing cameo appearances from Tina Fey, Amy Poehler, Jim Carrey and Marion Cotillard, to name a few.
Arriving in a three-disk set, the Anchorman 2 DVD offers over four hours of exceptionally good special features. The Blu-ray combo pack includes three versions of the film – the unrated, the super-sized R-rated with 763 new jokes* (the disclaimer says jokes are "subject to your sense of humor") and the theatrical versions.
With the three versions of the film, you might think you'd seen everything there is of Anchorman 2, however, the alternate scenes and deleted footage could easily be a movie by itself.
The extended version presents an audio commentary by Adam McKay, Judd Apatow, Will Ferrell, Steve Carell, Paul Rudd and David Koechner. The gag reel has some hilarious scenes during the breaks and goof-offs. There is also a nice behind-the-scenes piece, Newsroom, focusing on the newsroom set and news crew characters.
The DVD combo pack is presented in high-quality widescreen with an English audio description and English, French and Spanish subtitles. ~Alexandra Sharova