Angelina Jolie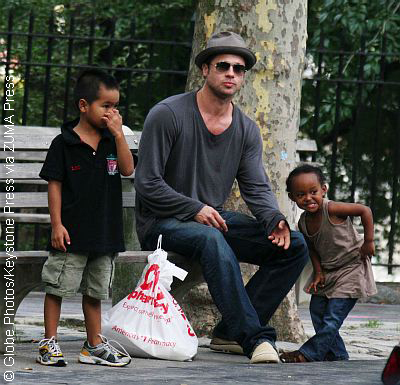 has reportedly been ordered to allow Brad Pitt more access to their children or risk losing primary custody.
More than 20 months after filing for divorce, Angelina and Brad continue to battle for custody of their six children, aged 16 and younger. This week, a new court ruling has threatened to restrict Angelina's involvement, while offering Brad the opportunity for greater interaction with their kids.
CNN reported a court order issued last week outlines that Angelina is required to tell their children and doctors that the "court has deemed that not having a relationship with their father is harmful to them." She must also tell them that they are "safe with their father" and a healthy relationship with both parents is "critical."
The 43-year-old actress currently has primary custody of the children. In 2016, Brad was accused of child abuse, but was eventually cleared.
A summer schedule was also outlined in the court papers, detailing how often Brad should be able to see his children in the upcoming months. Five of the children — Pax, Zahara, Shiloh and twins Knox and Vivienne — are mentioned in the schedule, with 16-year-old Maddox, the eldest, exempt.
The children will split their time between Brad's home in Los Angeles and Angelina's home in London, where she is currently filming Maleficent 2. Angelina must also provide Brad with the children's mobile numbers and cannot monitor or interfere with phone calls.
According to the documents, if Angelina refuses the court order's demands, this "may result in the Court ordering primary physical custody to [Brad]."
Angelina and Brad began dating in 2005 after starring together in the film Mr. & Mrs. Smith. They married in 2014 and in 2016, Angelina filed for divorce, citing irreconcilable differences. ~Caitlyn Clancey