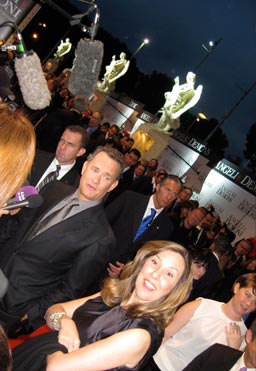 Rome – Director Ron Howard is once again ruffling feathers by bringing one of Dan Brown's novels to the big screen. So what's the best place to premiere the film? Right in the middle of the controversy: Rome, Italy, just outside of the Vatican, whose members of the clergy and His Holiness, Pope Benedict XVI, strongly oppose aspects of the storyline in Angels & Demons.
The world premiere, attended by the film's star Tom Hanks (Robert Langdon), as well as Ayelet Zurer (Vittoria Vetra), Ewan McGregor (Camerlengo Patrick McKenna), director Ron Howard and author Dan Brown, took place at Auditorium Parco Della Musica, the home of the Rome International Film Festival Monday evening. But, despite extra security on the red carpet, the event took off without a hitch.
Angels & Demons began feeling the stronghold of the Vatican after its members made it extremely difficult to allow Howard access to various Rome's landmark locations for filming. Howard went as far as filming undercover with tiny hidden cameras. However, in order to recreate scenes inside the Vatican, Howard and crew had to build movie sets of the Vatican, where McGregor filmed all of his scenes.
Angels & Demons follows symbologist Robert Langdon, who is recruited by the Vatican after four important cardinals are kidnapped on the eve of conclave—a meeting of the College of Cardinals convened to elect a new pope. In order to find each Cardinal and save Vatican City from a huge disaster, Langdon sets out on a quest to decipher the clues set in motion by an ancient secret society called the Illuminati.