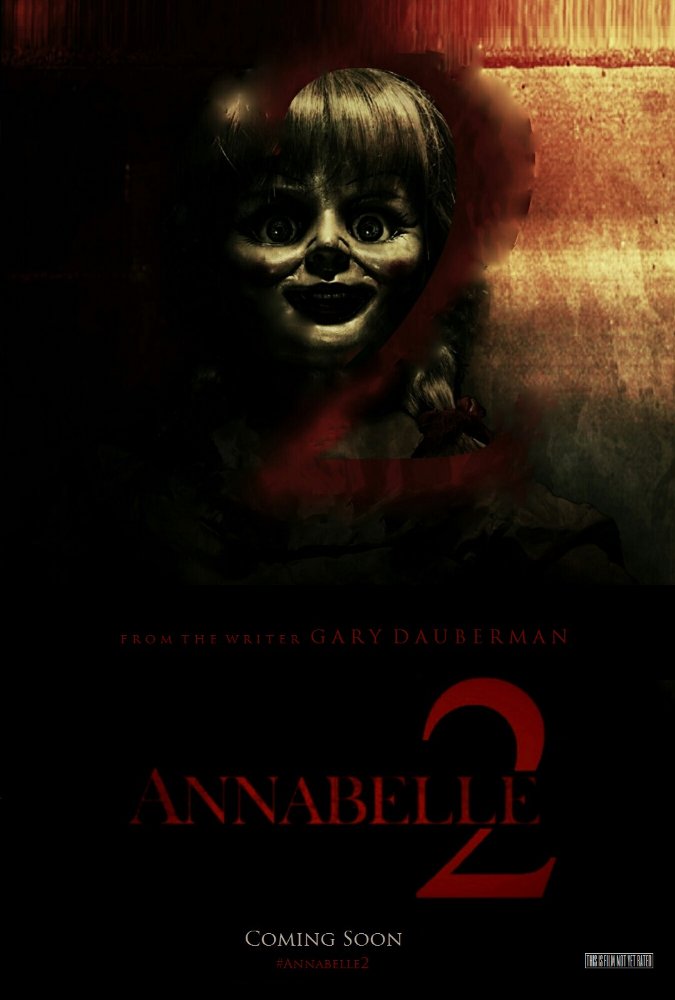 She's back! Annabelle returns to haunt even more victims in Annabelle 2. The sequel focuses on a dollmaker and his wife who welcome a nun and several girls from a orphanage into their home. But soon, their new guests become the next targets of Annabelle's evil.
Also in this week's list of new trailers is the sci-fi thriller Passengers, in which a spacecraft traveling to a distant colony planet has a malfunction in its sleep chambers, waking two passengers 90 years early. There is also the psychological thriller Nocturnal Animals, in which an art gallery owner obsesses over her ex-husband's novel, a violent thriller she interprets as a veiled threat. ~Natalia Makarski
But don't stop there — we have more new trailers for you to check out below:
1. Annabelle 2
2. Passengers
3. Nocturnal Animals
4. Moana
5. Smurfs: Lost Village
6. The Bye Bye Man
7. Mean Dreams
8. Bastards
9. The Whole Truth
10. Middle School: The Worst Years of My Life 
Annabelle 2: Twenty years after the tragic death of their daughter, a dollmaker and his wife (Miranda Otto) welcome a nun (Stephanie Sigman) and several girls from a shuttered orphanage into their home. However, their guests soon becoming the target of the dollmaker's possessed creation, Annabelle, as she sets her sights on the children and turns their shelter into a storm of horror.

Passengers: Starship Avalon is a spacecraft is on a 120-year voyage to a distant planet known as Homestead Colony. On board are 5,259 people, suspended in time in sleep chambers. When there's a malfunction, a hibernation pod opens 90 years too early, leaving a single passenger, Jim (Chris Pratt), the only one awake on the ship. Faced with the prospect of growing old and dying alone, he wakes up one of the other passengers – Aurora (Jennifer Lawrence).

Nocturnal Animals: Susan (Amy Adams), an art gallery owner in a crumbling marriage, receives a package from her ex-husband Tony (Jake Gyllenhaal), whom she left 20 years earlier. Inside is a book manuscript called "Nocturnal Animals," and he asks for her opinion about it. Alone in her mansion while her new husband is away, Susan begins to read it and quickly becomes obsessed with the script, which revolves around a man whose family vacation turns deadly. Susan interprets the violent thriller as a secret threat of symbolic revenge.

Moana: On a mystic island off Oceania in the South Pacific, young princess Moana Waialiki (voiced by Auli'i Cravalho) is the feisty teenage daughter of the chief of her tribe, and the only daughter in a long line of navigators. When her family needs her help, she sails off across the open Pacific ocean on an epic adventure to save her people. Joined by the once-powerful demigod Maui (voiced by Dwayne Johnson), Moana is determined to prove herself a master wayfinder and to fulfill her ancestors' unfinished quest. Along the way, she discovers her own identity on the mission, which also pits her against impossible odds and enormous monsters.

Smurfs: Lost Village: It seems to Smurfette (voiced by Demi Lovato) that everyone else in the Village has a purpose. There's Papa Smurf (Mandy Patinkin) who is suited for leading, Baker Smurf who has a talent for baking, and even Grouchy Smurf who's good at…well, grouching. While attempting to find purpose within the village, she accidentally crosses paths with a mysterious creature that she follows into the Enchanted Forest. Joined by her brothers Brainy (Danny Pudi), Hefty (Joe Manganiello) and Clumsy (Jack McBrayer), they set off on an adventure of epic proportions to find a mysterious lost village, before the evil wizard Gargamel (Rainn Wilson) does so first.

The Bye Bye Man: When three college students move into an old house off campus, they find a Ouija board. While playing with it, they receive messages from "The Spirit of the Board". The students ask to speak with someone who once lived, but despite warnings from the Spirit that this could be dangerous, they persist. They discover a sinister entity who is not only human, but still alive. The Spirit tells them about the entity, known as the Bye Bye Man, who now that they know about him, is on the way to visit them. When he arrives, the friends try to save each other, while keeping the Bye Bye Man's existence a secret to save others from the same fate.

Mean Dreams: Fifteen-year-old Jonas (Josh Wiggins) struggles to cope with his family's financial issues and his mother's ongoing battle with depression. When Casey (Sophie Nélisse) moves in down the road, the two click instantly, and Jonas finally feels like he's found a real home. Unfortunately, both of their fathers do not approve of their relationship. Faced with no where to turn, Jonas and Casey steal some money and go on the run. With Casey's father hunting for them, they must figure out a way to escape their dysfunctional lives, and ultimately find the freedom to truly experience first love.

Bastards: When fraternal twin brothers Kyle (Owen Wilson) and Peter (Ed Helms) arrive at their mother Helen's wedding, they discover that she made up the story about their father dying from colon cancer. In reality, she isn't even sure who he is. They set out on a road trip to find him, and go through a list of potential fathers, including former football quarterback Terry Bradshaw, and a man named Roland Hunt (J.K. Simmons), who insists there's no way they're his sons. But as they continue their crazy road trip, Helen tries to convince the boys to stop their search, as their father's identity is irrelevant.

The Whole Truth: Seventeen-year-old Mike Lassiter (Gabriel Basso) is accused of stabbing and murdering his wealthy father Boone Lassiter (Jim Belushi). Cool and calm defense attorney Richard Ramsay (Keanu Reeves) and his young associate Janelle (Gugu Mbatha-Raw) are tasked with proving the young client's innocence. Distraught, Mike's mother Loretta (Renee Zellweger) begs Richard, who also happens to be a family friend, to save her son from prison. It initially appears to be a cut and dry case of an abusive father and a fed up son. However, as the pieces start to fall together, Janelle begins to suspect that Richard and Loretta may be much more involved in what happened on that fateful day.

Middle School: The Worst Years of My Life: Rafe (Griffin Gluck) has an epic imagination…and a slight problem with authority. Both collide when he transfers to an oppressive, rule-crazy middle school. Drowning in do's and don'ts, Rafe and his best friend Leo hatch a plan to break every rule in the school's Code of Conduct, as their battle with Principal Dwight explodes into chaos. But Dwight displays his own fiendish creativity, striking back at the rulebreakers. Meanwhile, Rafe struggles to hide his misbehavior from Jeanne, the straight-A, overachieving girl of his dreams, and at home, his mother's boyfriend — a moochy, jack-of-no-trades whos threatens to become his stepfather.