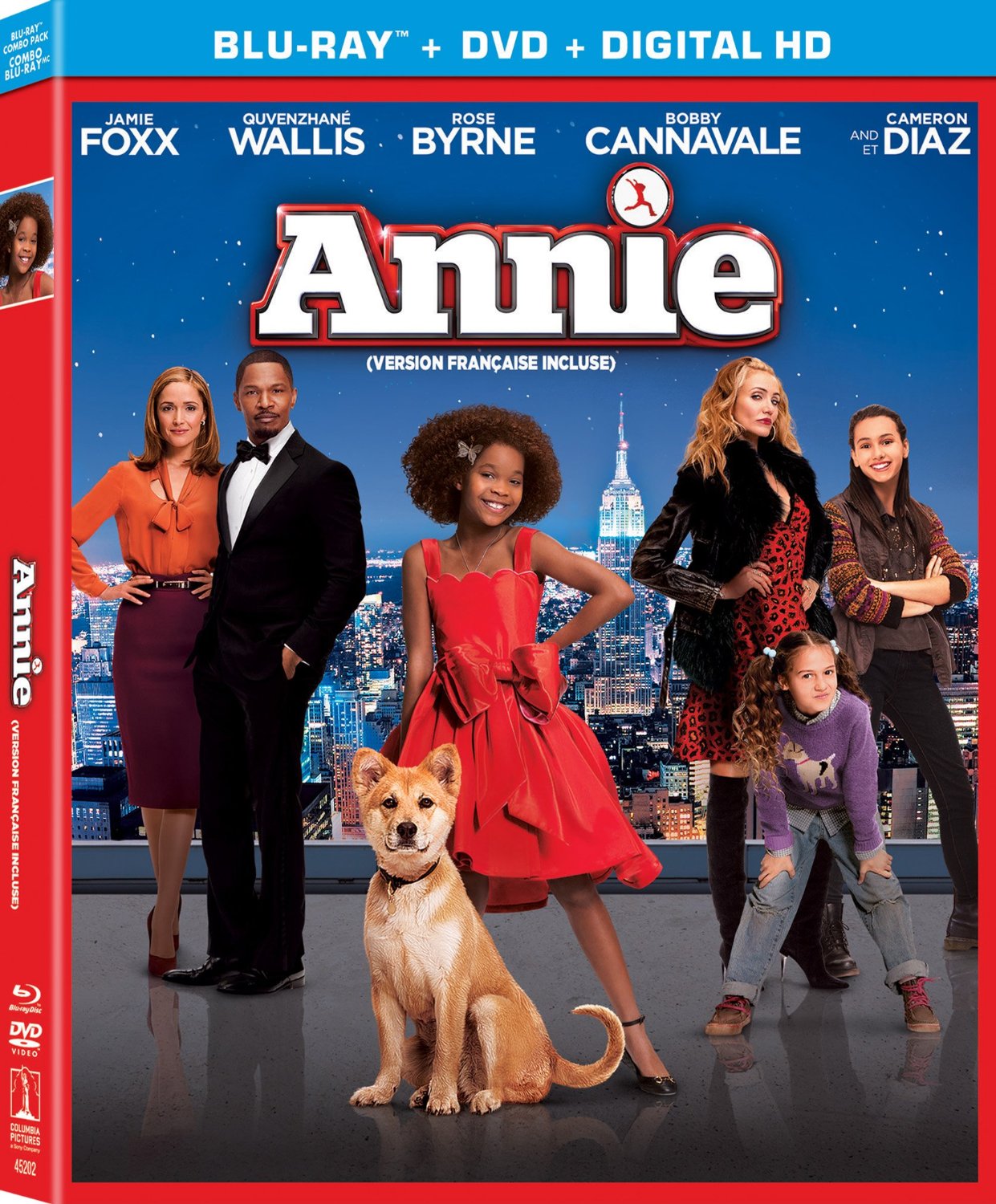 As a fan of the stage version of Annie, I didn't like the 1982 movie adaptation, which didn't have the heart of the original. When I heard there was another movie version in the works, I didn't have high hopes. However, I was pleasantly surprised by this Annie, which isn't really a remake of the stage musical. The original story is barely recognizable and the songs have either been modernized or completely removed.
As played by Quvenzhané Wallis, this Annie is still tough, like she was in the original, but cooler, a little more laidback. A foster kid rather than an orphan, Annie is unimpressed when she meets Will Stacks (the Daddy Warbucks of this movie), a cell phone mogul who's running for mayor. He hates kids, but when a video of him saving Annie from getting hit by a van goes viral, his campaign manager Guy suggests Stacks have lunch with Annie to further boost his profile.
The little girl reasons that if lunch with her would be good for Stacks' campaign, having her come live with him would skyrocket his likability factor. He realizes she's right, and has her move in to his giant penthouse. Plus, his somewhat kookie secretary, Grace, likes Annie and is supportive of the idea.
Guy decides it would be even better if they could eventually find Annie's parents, providing a happy ending for the public, and send her on her way. The problem is that Annie's charm slowly wins Stacks over and he's not as happy about giving her up as he thought. As well, Guy has a little "Rooster" from the original show in him – he's not on the straight and narrow.
A revamped "You're Never Fully Dressed Without a Smile" as well as two original songs are provided by the talented and currently very popular singer/songwriter Sia. Other songs have been revamped as well and the upbeat sound perfectly fits into the modernized script.
Ironically, the only thing that I felt was missing was a song called "Something Was Missing," which is sung by Jamie Foxx as Will Stacks in the Deleted Song special feature on the Blu-ray. It's a song that when I saw Annie on stage, it brought a tear to my eye and showed just what Warbucks was feeling – that Annie had become an important person in his life – and just in time, when she really needed someone. Foxx does a great job with the song, so I don't know why it was left out – its exclusion makes Stacks' turnaround from finding Annie a nuisance to welcoming her in his life somewhat abrupt.
That was my only complaint – otherwise, it was a great new story that kept just a hint of the original songs. Rose Byrne brought a welcome goofiness to the part of Grace, who's very straight-laced (and somewhat boring) in the stage version; Bobby Cannavale played the role of Guy perfectly – he doesn't let on at the beginning what he's capable of, making for an interesting surprise; Miss Hannigan, as played by Cameron Diaz, went through an interesting story arc, but revealing it would be a major spoiler; and each of the foster girls had a distinct personality and top notch dancing/singing skills. The rest of the cast perform their songs adequately, but if you're looking for strong, Broadway-type voices, this isn't the movie for you. The casting director obviously went for actors who were able to sing a little, rather than singers who could act a little.
There is an impressive variety of special features on the Blu-ray, including A Day on the Set with Quvenzhané Wallis, who seems to be quite a charming little girl who's fairly unaffected by her success. There are also Bloopers; It's a Hard Knock Camp: Auditions and Training, which introduces us to each of the girls who play the foster kids and shows what each one's strength is and why she was chosen; The Making of Annie; the Music Video "You're Never Fully Dressed Without a Smile;" 5 Sing-Along Tracks; Fun with Sandy, which is a cute behind-the-scenes look at Sandy's outtakes; Photo Gallery; Outtakes; Tomorrow Around the World, in which girls sing Tomorrow in different languages, presumably for the foreign language versions of the film, in German, Dutch, Belgian, Spanish and more. There's also Annie Trivia, in which you can watch the movie and little bubbles will pop up with information about each scene and/or actor; Moonquake Lake, on Set!, a spoof behind-the-scenes look at the movie Moonquake Lake that Stacks takes Annie and her friends to; and Director's Commentary, as well as the aforementioned deleted song "Something Was Missing."
Also releasing on DVD today are: the thriller Before I Go to Sleep starring Nicole Kidman and Colin Firth, Exodus: Gods and Kings, the Canadian Screen Award-winning movie Mommy, the Chris Rock comedy Top Five and the animated features Penguins of Madagascar and Song of the Sea. ~Alexandra Heilbron
To watch trailers for these movies click below:
Annie
Mommy
Before I Go to Sleep
Exodus: Gods and Kings
Penguins of Madagascar
Top Five
Song of the Sea