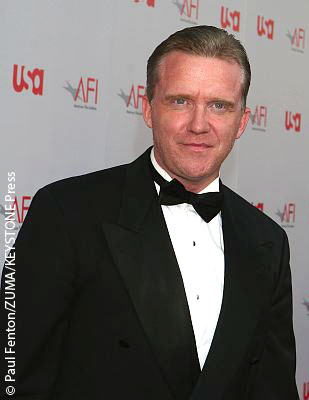 From The Breakfast Club to the convict club, Anthony Michael Hall is in some hot water with the law once again.
According to a new report at TMZ, the former Brat Packer is facing up to seven years in jail after being charged with felony battery with serious bodily injury by the Los Angeles County District Attorney on Sunday. Hall was previously accused of pushing his neighbor to the ground during a spat outside their Playa del Rey condo complex in Los Angeles.
The alleged incident occurred after the Sixteen Candles star's neighbor left his condo gate open. The neighbor told police that Anthony yelled at him to close the gate, angrily slammed it shut himself, and then proceeded to attack him.
TMZ obtained low-quality footage of the assault, in which two men are seen in a scuffle, during which one is violently shoved backwards. The victim, who remains unidentified, was reportedly left with a broken wrist and an injured back.
Hall has a history of bad behavior towards his neighbors — in September 2011, TMZ reported that the actor was arrested for allegedly disturbing the peace after "terrorizing" his condo complex. The arrest came after months of frightening the tenants with various obscenities and challenges to "fight on the street."
Do you think Hall deserves to do hard time? Or is anger management treatment the way to go? Sound off below!