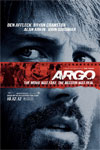 "Can you teach somebody to be a director in a day?" asks a character in Argo. Maybe not, but this movie is proof of a great director's work, whether he learned the skill in one day or 20 years. Either way, the film has been nominated for an astounding seven Oscars and rightfully so, as Argo and director Ben Affleck, also the lead character, are mind-blowing right from the get-go. Based on a declassified true story, the movie is a whirlwind of emotions, for the characters and the audience. The actors, including John Goodman, Alan Arkin and Bryan Cranston, were all naturals at playing parts that seemed to be made perfectly for each of them. Whether the characters were nervous, frightened, hopeful, happy or disappointed, it was so easy to empathize with their situation.
In 1979, Iranian activists attacked the U.S. Embassy in Tehran. More than 50 Americans were taken hostage, but six escaped to safety at the Canadian ambassador's house. CIA specialist Tony Mendez (Ben Affleck) is brought in to devise a plan to bring the six back home. He enters Iran using a director alias and claims the six escapees as his film crew, looking for locations to film a new sci-fi movie titled Argo. Of course, nothing is ever as simple as it seems and the team finds themselves in danger right up to the very end.
The movie has been criticized on many different levels. Some are angry because the Canadian ambassador's role in the whole plot was understated, when in fact, he did more than house the escapees, but also put his own life in danger. Despite the criticism and a sensitive topic to work around, Affleck has created a classic film that allows the heroes to receive the praise they have waited for and deserved.
The Blu-Ray Combo Pack, released February 19, 2013, also includes an audio commentary with Affleck as well as more than four hours of bonus features. One of the special features, called Rescued from Tehran: We Were There, shows a more in-depth look at the real-life characters, including Canadian ambassador Ken Taylor.
From beginning to the end, the suspense, non-stop action and even some real-life news footage from the actual crisis leaves you on the edge of your seat hoping for a safe journey home and the well being of the Argo team. The entire cast did an amazing job at bringing the true story to life. ~Renita Naraine
Other DVDs releasing today include: Anna Karenina, Fun Size, Sinister and Top Gun 3D.