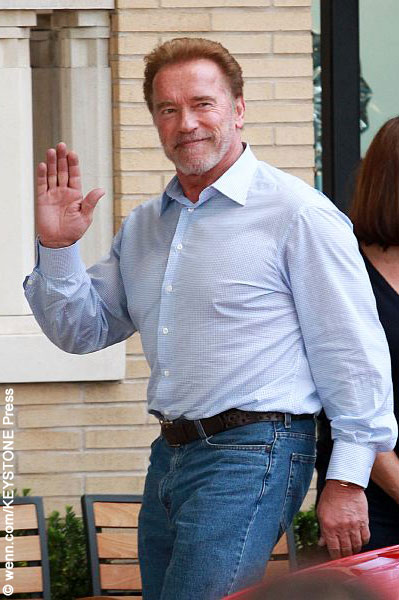 Arnold Schwarzenegger, 68, has played macho, fearless characters from Terminator to Mr. Freeze, but a new video (and the caption he penned to accompany it) proves he can be frightened, too.
While visiting South Africa, the actor/former California governor shared nerve-racking footage to YouTube of a massive elephant sussing out the vehicle he was in and then charging it.
The video shows the SUV in the middle of a road as the elephant approaches and investigates it with its tusks. As the elephant begins to move away, one passenger asks, "Is he backing up because of the engine?"
Arnold then chimes in, saying, "No, he's going to charge us."
Initially, it appears Arnold is incorrect as the magnificent creature veers off the road and hangs in the bush for a few moments. But the Austrian's prediction was, in fact, spot-on.
Despite feeling shaken up by the precarious incident, Arnold only had praise for the creature.
He captioned the video with: "I couldn't have written this safari encounter better if it was a movie. I'm absolutely in awe of these beautiful, strong animals, even though some of us had to change our pants after this."
He also made a plea to end elephant poaching, saying, "We need to stop killing them — take a photo, not a shot."
He's in Africa promoting Arnold Sports Festival, a multi-national, multi-sport athletic event that is carried out around the world. It was most recently held in Johannesburg over the weekend. He has also previously spoken out about the murder of Cecil the Lion, writing on Instagram: Stop killing big cats. Killing a lion isn't ballsy…. joining the military – that's ballsy… Protecting big cats = ballsy."
Upon his return to the U.S., he'll step into Donald Trump's previously held role on The New Celebrity Apprentice.
Take a look at the video and let us know what you think! ~Matthew Pariselli