Ashley Olsen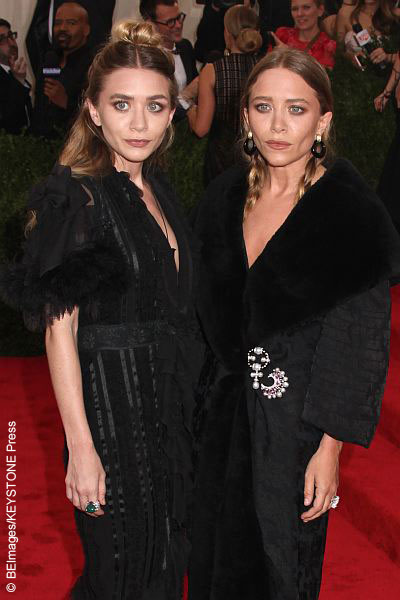 has been looking somewhat sickly lately, as witnessed in this photo at left taken at the Met Gala on May 3rd, and now we know why. The 28-year-old fashion designer (at left in the photo, with short sleeves) is thought to be in the later stages of Lyme disease, which is caused by tick bites.
Symptoms include fatigue, fever and headache. A source close to the former child star (who starred in the long-running series Full House with her twin sister Mary-Kate Olsen) told OK Magazine: "She's really sick. It's gotten worse. She was diagnosed in the very late stages so early detection measures weren't options for her. She's really going through it." They added, "When she does come to work, she looks haggard and disheveled. And she's often moody. Ashley's having a very rough time right now."
Now I'm no doctor, but if Lyme disease makes you look "haggard and disheveled" she's been battling this for at least 10 years. I thought the deer-in-headlights blank stare was a fashion thing…who knew?
In all seriousness, Lyme disease is no joke and we wish Ashley a speedy recovery. ~Andree Rhooms