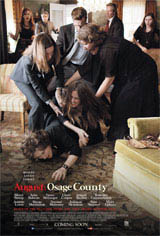 In this clip from the acclaimed new movie
August: Osage County
, Violet Weston (
Meryl Streep
) shows her racism against her Native American nanny.
Based on Tracy Letts' play by the same name, August: Osage County follows Violet Weston (Meryl Streep) and the rest of her family after her husband (Sam Shepard) mysteriously disappears. Once the family comes together, dark secrets are revealed and shocking revelations are made.
August: Osage County opens in select theatres December 25th, and expands on January 10.
RELATED VIDEOS
Movie Clip – Been Married
Movie Clip – Elizabeth Taylor
Movie Clip – Fear
Movie Trailer 2
Movie Trailer 1