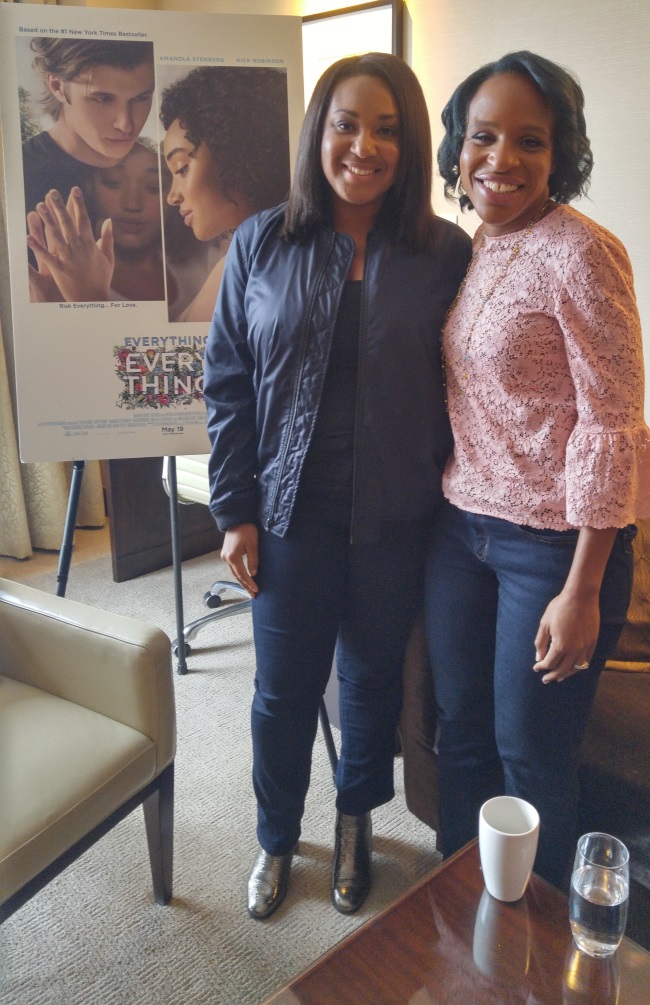 Based on Nicola Yoon's novel of the same name, Everything, Everything is a young adult film that tells the story of Maddy Whittier (Amandla Stenberg), a teenager who is allergic to everything in the outside world and has been sheltered inside her home her entire life. Things change when a boy named Olly (Nick Robinson) moves in next door.
We chatted with Nicola Yoon and director Stella Meghie about the film, the inspiration and what's the one thing they would miss the most if they couldn't leave the house.
Nicola, what was your inspiration for the book? Were the characters and their circumstances based on someone you know?
Nicola: No, it's definitely not based on real characters. But I was inspired by my daughter who was four months old and I was a nervous mom. I was the mom who thought she was going to eat buckets full of dirt in the backyard. I was very protective. So that was the inspiration.

Stella, what drew you to this script?
Stella: You know, for me it's the romance. It was unique and quirky and dark — very layered with an interesting mother and daughter story as well. It presented the opportunity of something that you have never seen.

Did you relate to this teen story of love and testing your limits?
Stella: Yes, I thought the themes were really big. It reminded me of the first time you fall in love and that feeling of innocence and that feeling of just wanting to leap. You dig into your own relationships and all the chances you've taken. So I definitely related to it.
Apart from the theme of love and idealistic notions, there is a story of an interracial couple that isn't the main focus, was that intentional?
Stella: It was important to bring forward the diversity that is in the book and to portray Maddy and Olly like in the book. Nicola has created a diverse world that I represented in my film and want to keep representing. It's nice that they can be who they are and we don't have to talk about it.
Nicola, what was it like to see your characters brought to life on screen?
It's magical. My husband and I watched it in an MGM screening room and we held each other's hands throughout the whole thing and cried. David cried more than me. Although there is one scene that makes me bawl every time I see it. But yeah, it's wonderful watching something so beautiful. I was nervous at the beginning but then I had no reason to be because Stella did such a great job.
Amandla was the perfect choice to play Maddy — a blend of innocence and wit. How did you end up casting her?
Stella: She was at the top of the list very early on and she was just so smart and poised and thoughtful and beautiful. When she auditioned, it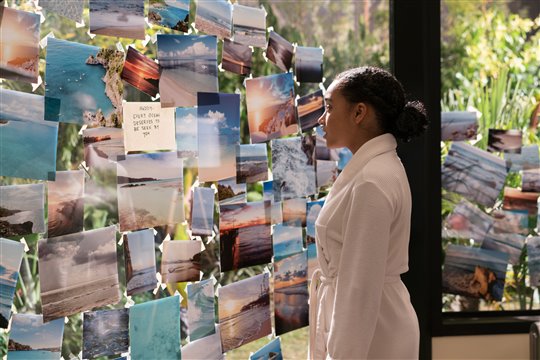 was very obvious from the first scene that she was right for the role and such a great opportunity to be able to give her this kind of lead so people can see her all grown up. For Nick, I was a fan of his work.  I thought there was just something about him that would bring a certain amount of depth to Olly.
Amandla and Nick have great chemistry. Did they do any workshops before filming?
Stella: They had a great coffee when they met and sent me a cool selfie that I pinned to my prep board. We were lucky we had about a week's rehearsal so we kind of just hung out every day in the morning and rehearsed and worked through scenes. We were able to spend some good time with each other and got to know each other.
I love how the texts come to life through an actual conversation, whether it's a burger joint or a library. Was that an important depiction?
Stella: Yeah. I thought it was important to try and not just shoot them texting. I think you have much less time in a film to build a relationship than they do in the book. I wanted to bring them together as much as possible.
Maddy is connected to the world through social media, but seeing her caged away from society made me realize how much we take for granted. How important is that theme?
Nicola: I do think we get overwhelmed with our busy lives. One of the hard parts of writing the book was trying to pretend I haven't seen the ocean so I can write it for Maddy. The way I did it was I took my little girl to the beach for the first time and watched the way she reacted. I wanted to capture Maddy's sense of joy and wonder at seeing something new. We worry about kids and technology, but it's just another thing. We used to worry about telephones too back in the day. People need to communicate.
If you had to stay indoors, what would you miss most?
Nicola: The ocean. I grew up on an island so I need the water.
Stella: For me the same. Nature makes me so much more calm and understanding of my place in the world. I think it's a bit disorienting when you're not able to hike through the canyon or go into a forest or see the ocean. I would go stir crazy.
What's the message people should take away from this story?
Nicola: It's worth taking risks for love. Big question is: Is it worth everything, everything?

Well said! Thank you for chatting with us.
Thank you!
~Marriska Fernandes