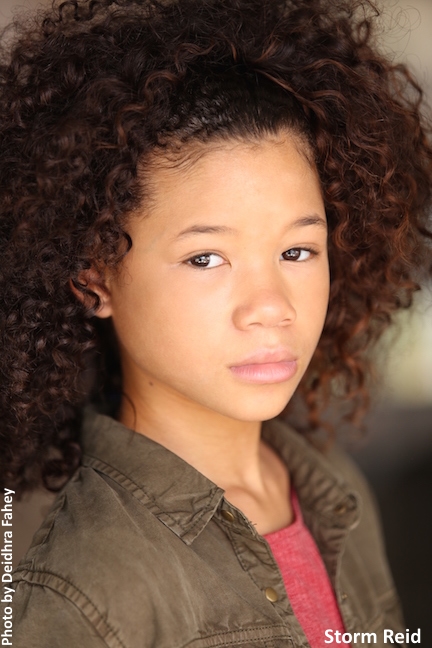 After announcing the upcoming big-screen adaptation of Madeleine L'Engle's classic fantasy novel A Wrinkle In Time back in February, Disney has finally found its star.
Storm Reid, 13, is the lucky young actress who will play the beloved outcast Meg Murray, alongside previously announced stars Oprah Winfrey, Reese Witherspoon and Mindy Kaling.
"After an extensive search that spanned multiple dimensions, we're overjoyed to welcome Storm Reid to A Wrinkle In Time as our beloved 'Meg,'" director Ava DuVernay announced yesterday.
"Storm is a tremendously talented young actress who embodies the hopes, dreams and spirit of a character much loved by audiences worldwide for generations. I can't wait to work with Storm as we chronicle Meg's epic quest, alongside Oprah Winfrey, Reese Witherspoon and Mindy Kaling as Mrs. Which, Mrs. Whatsit and Mrs. Who. Tesser well!"
Oprah, Reese, and Mindy all took to Twitter to (cheekily) confirm the news and express their excitement over their new leading lady. "Good news! We've found our Meg!" Mindy finished off the cute exchange between the talented trio.
Storm is best known for her role as Emily in the Oscar-winning drama 12 Years a Slave. She also just finished up production on Judy Greer's directorial debut A Happening of Monumental Proportions, co-starring Allison Janney, Common and Bradley Whitford.
The film, which follows a young girl transported to a fifth dimension, will be written by Oscar-winning Frozen writer and co-director Jennifer Lee, and is slated to begin filming later this year. ~Shelby Morton
Do you think Storm is right for the role? Let us know below!
It was a dark and stormy night…I wwondder wwhat Mrs. Whatsit is uupp to? @Rwitherspoon

— Oprah Winfrey (@Oprah) September 13, 2016
. @Oprah Wild nights are my glory! Don't you agree, Mrs. Who? @mindykaling https://t.co/gMMlVSoDcL

— Reese Witherspoon (@RWitherspoon) September 14, 2016
.@rwitherspoon @oprah I do! And good news! We've found Meg! Hi, @AlwayzStormn! @Disney https://t.co/iOjqjxqktx

— Mindy Kaling (@mindykaling) September 14, 2016