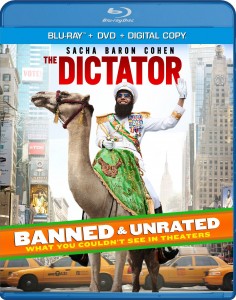 It would be misleading to say that Sacha Baron Cohen has come a long way since he burst onto the scene with Da Ali G Show back in 2003; because, really, he hasn't changed a bit. Sure, he's become infinitely more famous and recognizable to the general public, but the strength of Cohen's unique brand of absurdist comedy is still largely rooted in the creation and exploration of sketch-based characters: first with the endlessly quotable Borat in 2006's perfectly-titled Borat: Cultural Learnings of America for Make Benefit Glorious Nation of Kazakhstan and then again as the titular character in 2009's Brüno (not to mention the lesser-known namesake for his television series, Ali G). Now, Cohen makes his return to a co-writer / starring role with his latest creation: Admiral General Aladeen in The Dictator.
As a whole, The Dictator is not necessarily dissimilar from Cohen's previous works; it still relies heavily on the broad, absurdist and often slapstick comedy that the British actor has become famous for. What sets it apart, however, is the fact that this marks Cohen's first foray into formally scripted comedy since coming to Hollywood following Da Ali G Show: while Borat and Brüno were both mockumentary-style productions that relied on a variety of scripted, improvisational and documentary-esque sequences, The Dictator had a set script from the get-go.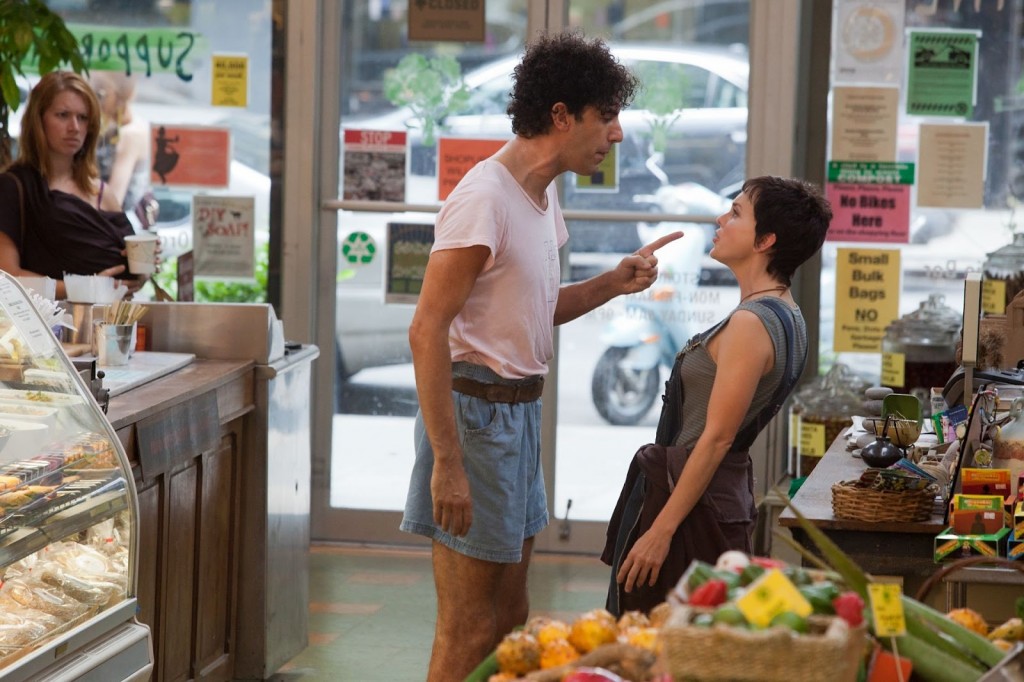 Surprisingly, this change of format does very little to alter the format and quality of Cohen's output. The Dictator succeeds and fails in much the same categories that its predecessors did, which is to say that if you've enjoyed his previous work, you're likely going to enjoy his latest offering. In spite of the formal script-work done here (penned by Cohen himself, alongside Curb Your Enthusiasm writers Alec Berg, David Mandel and Jeff Schaffer), Cohen's Admiral General Aladeen exists as a broad excuse to explore a variety of vignettes, a style of comedic storytelling that is somewhat more akin to the pre-Judd Apatow era – before comedies got "sophisticated" and modernized – and owes itself more to films like Zoolander and Anchorman than to the increasingly experimental narratives of Borat or Funny People.
Returning in the director's chair is Larry Charles, who also collaborated on Borat and Brüno with Cohen. Yet another Curb Your Enthusiasm alumnus, Charles' work here is more than adequate, and his best moments are when he disappears into the scene and simply allows the actors to riff off one another, a trait he undoubtedly picked up from his time on Seinfeld.
Obviously, the real star of the show here is Cohen as the titular dictator, whose witty (and sometimes a touch on-the-nose) satire of larger-than-life tyrants makes for some occasionally clever and often-times hilarious situations and social commentary. Surrounded by a high-caliber supporting cast – including Ben Kingsley and Anna Farris – Cohen's greatest moments are in his quiet, argumentative scenes between the other characters. Case-in-point: the always-incredible Jason Mantzoukas (of The League fame), whose "Nuclear" Nadal character steals every scene in which he appears, and has the most successful chemistry with Cohen of any actor in the film. The delightfully crass but impressively respectful 9/11-helicopter sequence between Mantzoukas and Cohen is easily the smartest, funniest moment in the entire movie, and proves that The Dictator is at its best when the two actors are simply left alone to riff.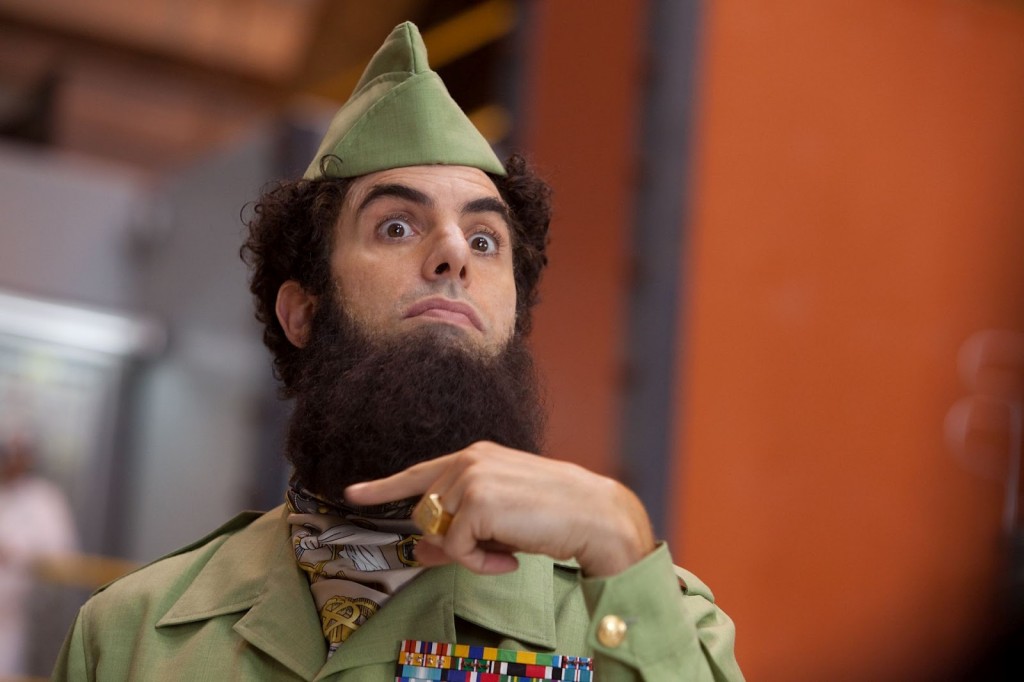 The film is not without its flaws, to be sure – its story is a touch half-baked and some of the more predictable, fish-out-of-water jokes fall completely flat – but they shouldn't take away from one's enjoyment of the film in any way, largely due to its stitched-together format; if one sequence isn't working for you, another is coming up shortly that might.
Shot digitally on the Alexa in order to afford the stars the freedom of extended, uncut takes, the Blu-Ray features a very solid transfer that looks excellent in 1080p. Fortunately, the film never calls attention to its digital format the way that so many others do, and doesn't come across as glaringly un-cinematic. The 5.1 DTS-DS Master Audio track is a nice addition, and though it's far from the most memorable audio on a disc you're likely to hear this year, it's certainly a strong offering from a film that doesn't require much from its audio track.
The disc also comes with two versions of the film: the R-rated, theatrical cut and a brand-new, unrated cut that runs approximately 15 minutes longer than the original. Though some of the added footage does little to benefit the overall film, it's easily the superior of the two cuts; when your film is essentially a series of sketches stitched together to form a feature, affecting the pacing isn't really a factor – especially when the runtime has been up from a miniscule 83 minutes to a still-manageable 98. The added scenes are generally just extended versions of ones that were already present in the theatrical cut, and that's to the film's benefit; longer scenes means more laughs, and "trimming the fat" isn't a factor in a sketch-based comedy of such a short length. One particular scene – the introduction of Mantzoukas' character – is one of the highlights of either cut, and should never have been trimmed in the first place.
The Blu-Ray is a little light on special features for a comedy, as the 30-or-so minutes of deleted and extended scenes are mostly a compiled collection of the bits that were put back into the unrated cut, with a few alternate takes thrown in for good measure. Other than that, the two other features are funny but not noteworthy, clocking in at under a few minutes combined.
Still, it's a great buy for fans of the film, Sacha Baron Cohen or vintage, vignette-style comedies. Those who enjoyed The Dictator the first time around in theaters will find a lot to like in the unrated cut, and the transfer and encoding are both very strong. And as a Blu-Ray combo pack, the inclusion of a digital copy and DVD (which only features the theatrical cut) makes it a no-brainer, no matter what your setup is like – buy this version and future-proof your purchases, even if you don't have a Blu-Ray player yet. ~Devin Garabedian
Also on Blu-Ray and DVD this week: Chimpanzee, Mike and Molly: The Complete Second Season, A Separation and  Bernie.