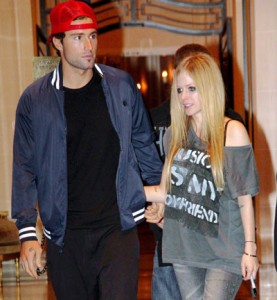 Avril Lavigne's boyfriend, Brody Jenner (of The Hills fame), has filed a report with police after the couple was allegedly attacked by a bunch of girls during a night out in LA.
The Canadian singer claimed she was left with a "black eye, bloody nose, hair ripped out, scratches, bruises and cuts" following what she said was an unprovoked attack at the Hollywood Roosevelt Hotel. Lavigne indicated that is was not cool to be attacked by a group of girls and insists she is not a fighter.
Jenner is said to have come to his girlfriend's defense and was allegedly struck in the head with a bottle while trying to protect Lavigne. He later sought medical treatment at a local hospital. Jenner is claiming he was the victim of assault with a deadly weapon.