Our picks for the 2017 movie awards season
By Marriska Fernandes on January 6, 2017 | 2 Comments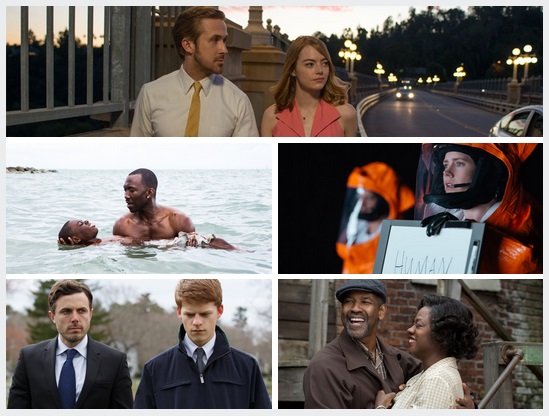 While you may have seen some of the critically acclaimed films that took over the box office, you may have missed some golden gems too. With awards season officially upon us, we have put together a quick cure to your movie-watching conundrums. With one of the big award ceremonies — the Golden Globes — kicking off this Sunday, here are the top contenders for the big awards this year.
La La Land
One of the films to win over audiences was the musical romance La La Land. Singing and dancing their way into the hearts of moviegoers were Canadian sweetheart Ryan Gosling and the always-witty Emma Stone. The film danced away with eight awards at the Critics' Choice Awards, taking home Best Director for Damien Chazelle, Best Score, Best Original Screenplay (tied with Manchester by the Sea), and the most coveted prize of them all, Best Picture. It also won the People's Choice Award at the Toronto International Film Festival. The film has bagged seven Golden Globe nominations, including Best Picture, Ryan Gosling for Best Actor and Emma Stone for Best Actress. We predict Oscar nods.
Moonlight
Another film scooping up the top awards is the coming-of-age drama Moonlight. It won Best Acting Ensemble for its cast and Best Supporting Actor for Mahershala Ali at the Critics' Choice Awards. It has also earned six Golden Globe nominations, including Best Picture, Best Director and Best Supporting Actor (Ali). The film seamlessly integrates three chapters of a man's life as he struggles with his sexuality and dysfunctional family. Our very own host Marriska Fernandes chatted with director Barry Jenkins, Mahershala Ali, Janelle Monae, Trevante Rhodes and Andre Holland at TIFF 2016 about the making of the film and what the film means to them. Watch their interviews before they nab more awards this year.
Manchester by the Sea
Another critical favorite is the Casey Affleck and Kyle Chandler drama Manchester by the Sea. At the Critics' Choice Awards, the film won Best Original Screenplay (tied with La La Land) while Casey Affleck beat out Tom Hanks and Ryan Gosling for the Best Actor Award. Will the film win at the Golden Globes? It has been nominated for Best Picture, Best Director, Casey for Best Actor and Michelle Williams for Best Supporting Actress. Our host Alexandra Heilbron chatted with Kyle Chandler and Lucas Hedges at TIFF about their involvement in the film. Click here to read the interview.
Hacksaw Ridge
Oscar winner Mel Gibson's World War II movie Hacksaw Ridge also won over audiences as it bagged the Critics' Choice Award for Best Action Movie. Will it scoop more awards at the Golden Globes? The film earned nominations in the Best Picture category, Andrew Garfield for Best Actor and Mel Gibson for Best Director.
Lion
Nicole Kidman and Dev Patel are among the actors who have been getting rave reviews from critics. Their movie Lion is a guaranteed tearjerker that won the Critics' Choice Runner Up Award and earned four Golden Globe nods: Best Picture, Best Supporting Actor (Dev Patel), Best Supporting Actress (Nicole Kidman) and Best Original Score. We think this film will get a few Oscar nods. Check our our TIFF interview with Dev Patel and Garth Davis who share the making of this film and what it was like meeting the real Saroo Brierley.
Arrival
Amy Adams and Jeremy Renner star in the sci-fi film Arrival which won Best Sci-fi/Horror movie and Best Adapted Screenplay at the Critics' Choice Awards. Amy has been nominated for Best Actress at the Golden Globes. If she gets an Oscar nomination, it will be her sixth one. Do you think it's time she won one?
Loving
Another film getting a lot of award season buzz is the Joel Edgerton and Ruth Negga drama Loving, which details the true story of the couple who made history by getting the state to lift the marriage ban on interracial couples. Loving has received rave reviews by critics and audiences alike. Both Joel and Ruth are in the running for Best Actor and Best Actress at the Golden Globes and we think Oscar nods are soon to follow. Click here to read our Loving review.
Fences
Fences is the screen adaptation of the Tony-winning Broadway hit starring Denzel Washington and Viola Davis. Their performances are being given recognition as Denzel stands nominated for Best Actor and Viola for Best Supporting Actress at the Globes. The film was nominated for Best Picture at the Critics' Choice Awards and we think there might be more nominations to follow.
Hell or High Water
This critically acclaimed film scored Best Picture nominations at the Critics' Choice and Golden Globe Awards, among others. Jeff Bridges scored a Supporting Actor nod at the Golden Globes. It won "Movie of the Year" at the AFI Awards. Have you seen Hell or High Water? Share your thoughts below.
The Golden Globes ceremony is hosted this year by Jimmy Fallon and airs this Sunday, January 8, 2017 at 5 p.m. PT/8 ET on NBC and CTV. The Oscar nominations will be revealed later this month. Until then, get your movie fix with these gems and tell us who you're rooting for. ~Marriska Fernandes
---
---
---
---
Similar Articles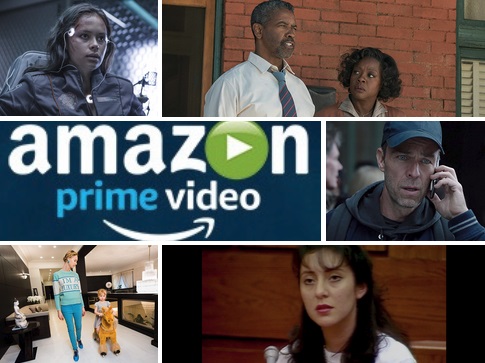 January 30, 2019 | Leave a Comment
Here's what's coming to Amazon Prime Video in February. From original series to classics like Baywatch, there's something for everyone. Click for more.
---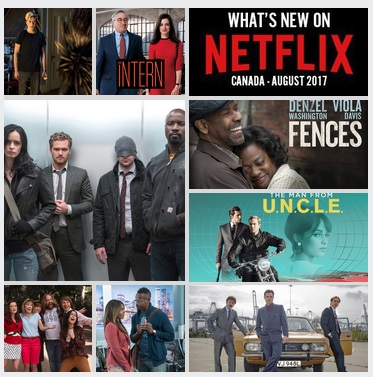 July 27, 2017 | 2 Comments
From Marvel's The Defenders to Wet Hot American Summer: Ten Years Later, this August there's a wide selection of Netflix movies and series for fans of every kind of genre.
---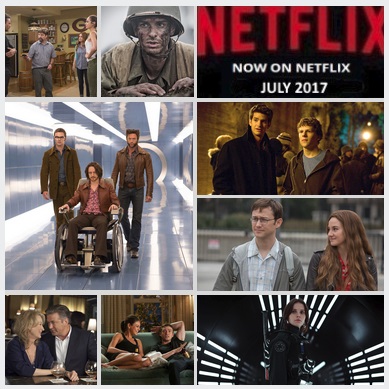 June 30, 2017 | 1 Comment
Catch up with Joseph Gordon-Levitt in Snowden or laugh out loud to Friends from College, here's your July guide to add some drama and spice to your life.
---