Baby on Nirvana album cover sues band for exploitation
By Tribute on August 25, 2021 | 5 Comments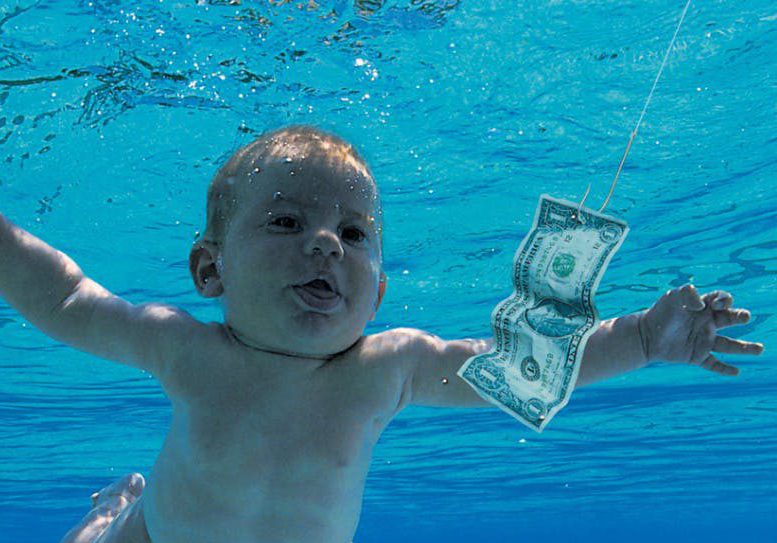 Thirty years ago, a four-month-old nude baby was featured on the cover of Nevermind, Nirvana's second studio album. In the infamous image (see above), a baby with exposed genitals reaches for a dollar bill while submerged underwater.
Spencer Elden now alleges the band and production team traversed the line between non-sexualized nude photos and sexually exploitative ones to produce the iconic album cover.
Elden, now 30, filed a lawsuit in the U.S. District Court's central district of California. He is asking for at least $150,000 in damages each from band members Dave Grohl, Krist Novoselic, and the estate of the late Kurt Cobain, which includes executor Courtney Love and managers Guy Oseary and Heather Parry. Elden also sued photographer Kirk Weddle, art director Robert Fisher, previous Nirvana drummer Chad Channing and a slew of current or defunct record companies that distributed the album since its 1991 release. Two of those include Warner Records and Universal Music Group.
Although United States' law suggests that nude photos of infants do not typically constitute child pornography, Elden and his lawyer allege otherwise.
"Defendants intentionally commercially marketed Spencer's child pornography and leveraged the shocking nature of his image to promote themselves and their music at his expense," the suit reads.
The pair also allege the ways in which the photo was obtained was unethical.
"Weddle took a series of sexually graphic nude photographs of Spencer. To ensure the album cover would trigger a visceral sexual response from the viewer, Weddle activated Spencer's 'gag reflex' before throwing him underwater in poses highlighting and emphasizing Spencer's exposed genitals."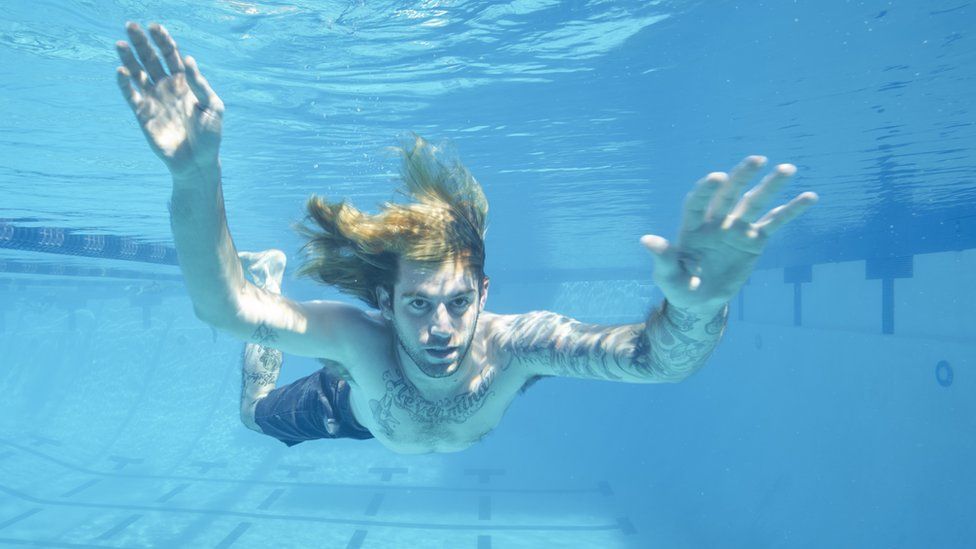 Singling out Cobain, Nirvana's frontman, the lawsuit stated the lead singer and guitarist chose the image of Elden — one they allege portrayed him "like a sex worker," because he's reaching for money, as if he had just performed a sex act for which he was paid. Elden further claims that his father, who was paid a flat rate of $200 at the time, was told that his son's genitals would not be visible in the photo.
Prior to the lawsuit, Elden expressed mixed feelings on the album cover, though he recreated the image while wearing swimming trunks throughout his teens and into adulthood. In interviews following those shoots, Elden was unsure whether the photo was exploitative. Only recently, around the album's 30th anniversary, did Elden first describe the photo as pornographic.
None of the defendants named in the suit have so far responded to the allegations. ~Cassandra Coleman
---
---
---
---
Similar Articles
July 28, 2014 | 3 Comments
Courtney Love says a new biopic of her late husband Kurt Cobain will go into production next year.The Hole frontwoman has claimed that she, her and Kurt's daughter Frances Bean Cobain and Nirvana's Dave Grohl and Krist Novoselic will be involved in ca…
---
---
---