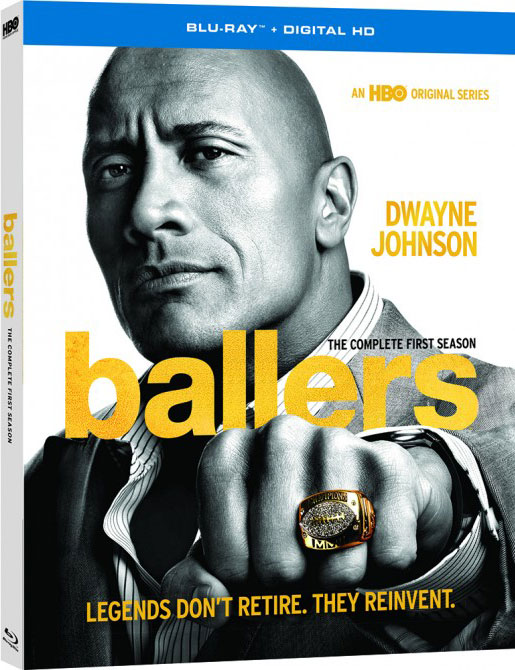 The HBO series Ballers stars Dwayne Johnson as retired former pro-football superstar Spencer Strasmore. He gets a job as a financial adviser with a Miami firm, because he has the connections to bring in highly-paid football players as clients.
The series consists of 10 episodes lasting approximately 25 minutes each and gives a fascinating inside look at the lives of football players.
The players spend too much money, take drugs and alcohol to excess, have meaningless encounters with women and basically, get into an assortment of problems. Although clichés abound, Dwayne Johnson carries the show very well on his very large shoulders.
Spencer Strasmore is one massive guy, and it's easy to picture him getting into as much trouble as his clients, but he's cool, calm and collected, even when faced with the most annoying characters. He's also loyal to a fault to Joe, the man who hired him at Anderson Financial, and has a conscience – there's something in his past that's bothering him and although he doesn't like to talk about it, it keeps coming to the surface until he's forced to deal with it. He also worried about the many concussions he had during his pro career, and is reluctant to find out if there's permanent damage.
Each episode keeps you intrigued as Spencer has to deal with yet another unique object in his path to success as a financial advisor. His clients keep him waiting before signing the contract, or otherwise get themselves into trouble that smooth-talking Spencer has to deal with — just as we think this is it — he's not going to be able to get his clients out of this, he shows miraculous talent at smoothing things over.
It's billed as a comedy and although it has comedic moments, I would stay there is as much drama involved. It's also described as fast-moving on the Blu-ray and I definitely have to agree with that – the series moves quickly and keeps you entertained as you wonder what Spencer and his co-horts are going to get into this episode. It's a great Blu-ray set to binge-watch over the course of a weekend.
The two-disc set comes with a featurette titled Inside the Episodes, in which executive producer Evan Reilly and cast members such as Johnson and John David Washington, a former pro-football player who plays Ricky Gerrett, one of Spencer's most problematic clients, talk about what went into making this series. Ballers has been renewed for a second season, premiering on HBO July 17, 2016.