In the upcoming movie Bandslam, starring High School Musical's Vanessa Hudgens, a group of teens duke it out in a battle of the bands proving that music really does rock your world.
Bandslam follows music nerd Will Burton to a new school and a fresh start. Here he meets Sa5m (yes, there's the number five in her name!) who, in a school with a sheep mentality, is perfectly comfortable just being herself. He also meets Charlotte, who convinces him to help fine tune her fledgling rock band in time to compete in the biggest competition of the year—Bandslam—for $10,000 and a record deal. Bringing together an improbable combination of high-school students, the band creates a unique sound, making them a likely contender for the prize. Tribute talked to newcomer Gaelen Connell and High School Musical's Vanessa Hudgens about the film, fame, music and their rockin' roles. By Katharine Watts
What was your reaction when you were cast for the main role in what is sure to be one of summer's biggest teen movies?
Connell: It's crazy! Now, not only can I be a dork in real life, but I can be a dork on screen too!
Why did you want to play the role of Will Burton?
Connell: People have a tendency to make films about the jocks in school, or "the McLovins" that are really off. I remember high school and 98% of the people were neither. They were just growing up. Bandslam is the setting for a movie that is about real relationships.
This isn't your typical light and fluffy teen flick.
Connell: Yeah, Todd (Graff) put a lot of stuff in it that wouldn't be in your typical Nickelodeon special. It's like School of Rock meets Juno. It's really cool—a lot of people aren't expecting that.
What was it like to work with Vanessa Hudgens?
Connell: Both girls (Vanessa Hudgens and Aly Michalka) are so awesome. I mean, they're superstars and I'm just this Shia LaBeouf wannabe—so they tell me. They kind of teased me the whole movie. I did things that aren't "correct film protocol" maybe. And they'd be like "Come on Gaelen, what are you doing!?" They kept me in check.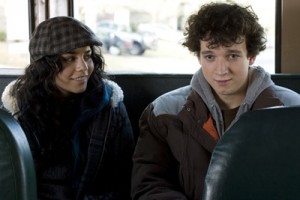 I hear you have a real-life band. Did you think up an equally rock-star quality name for it? What kind of music do you play?
Connell: I was in this band called Exist, but now I'm in this bigger band called Sweet 16. It's exactly what you would imagine: candy mixed with rock n' roll. Unlike my character, I actually do play in the band; I'm the lead singer.
Who are your favourite musicians?
Connell: This is tough! (Director) Todd Graff and me always bonded over weird or obscure bands. But a guilty pleasure…which I would never tell my friends, and there's no good reason why I'm telling someone who works at a magazine, is I sometimes listen to Switchfoot—because they're pretty excellent!
What are you doing to prepare yourself for stardom?
Connell: Well I don't think you can. I'm very fortunate with where I am right now, and if anything kicks off I'll be more than happy and lucky. One thing I did do was for the last two months I went to New Zealand. I kind of just wanted to travel and stay in hostels and do those things.
Whose career influences you? is there anyone in particular that you admire?
Connell: If I could have half the career that Michael Cera or Shia Labeouf have then I'd be happy.
You look a lot like a younger Shia LaBeouf.
Connell: Oh well thank you! We should do a Step Brothers type movie. Fingers crossed!
Vanessa Hudgens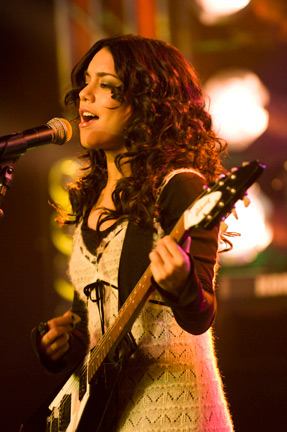 What attracted you to the film?
Hudgens: The fact that it was a different character. She has a number in her name! And there's great music in it—it's a fun story.
You're no stranger to a role that has you acting and singing. But you don't usually play the quirky outsider. How did you prep for the role of Sam?
Hudgens: Honestly? I watched The Addams Family. Wednesday nails it. She's very deadpan and monotone throughout the whole film. So I kind of looked to her for inspiration.
Can you relate to the character?
Hudgens: I can relate with that first day at school feeling—when you don't know anybody and it's extremely awkward. I think Sam got pigeonholed in that and never ended up making any friends.
The theme of music is always apparent in your roles. Is music important to you?
Hudgens: It just happens like that. I don't necessarily look for it; my next two movies don't have music really in them. But it's fun, music is a big part of my life, I don't hide it.
Who are some of your favorite musicians?
Hudgens: It keeps constantly changing. As far as inspiration it was Celine Dion. I stole my parents' CD and it was her and I would sit there with the lyrics books and sing all the songs, because she has such incredible range. As far as listening wise I listen to the Black Eyed Peas, Yeah Yeah Yeahs, Cheap Trick, Kings of Leon, Kasabian, Little Wayne, I'm all over the place.
Did you learn to play guitar specifically for the role?
Hudgens: Yeah. The song in the movie (Everything I Own) is the only one I know how to play. It was a lot of fun; I never thought I would actually be playing the guitar!
When we finally hear you sing at the end of the film, it has even more of an impact because Sam's voice is monotone throughout the film. Did you have to practice keeping emotion out of your voice?
Hudgens: Yeah—it was definitely interesting! But it was fun creating a whole new character.
It must have been hard, you are so accustomed to bursting into song, didn't you just want to scream!?
Hudgens: If anything giggle! I'm a giggly person. But I would tell myself not to, and then I didn't and it was all good.
What are your plans for future roles and upcoming projects?
Hudgens: The next one I'm doing is called Beastly. It's like a modern day version of Beauty and the Beast. It's a really sweet story. Then after that I'm doing a film called Sucker Punch that Zach Snyder is directing, which is very different, definitely action-packed and I think people are going to be shocked.
How do you deal with the constant paparazzi?
Hudgens: I just kinda do. I just tell myself I'm most likely going to get photographed and I don't fight it because when I do fight it that's when it starts getting extremely aggravating and frustrating.
Who is your celebrity crush? (Other than Zach of course!)
Hudgens: I think there are a lot of great looking guys out there. Brad Pitt, George Clooney, and Hugh Jackman are all extremely good looking.
What's it like doing a kiss scene with someone you barely know?
Hudgens: It's what you do as an actor. It's really funny and kind of weird but it's okay because it's just contributing to the story.
What was the most memorable part of your experience working onBandslam?
Hudgens: Probably the rehearsals. We would be there every day learning our songs and at one point I started to figure out the drums a little bit and we would all just have a jam session, which was a lot of fun—and something I don't get to do very often.