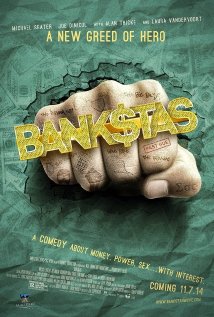 In the new movie Bank$tas, recent college graduates Neal (Michael Seater from Life with Derek) and Isaac (Joe Dinicol) use a dramatic video submission to impress Peter Hoss (Alan Thicke) – the owner of Hoss & Associates. Their wit and deliberate intentions seemingly impress Hoss and the two friends land the job of their dreams.
Although their entry-level positions call for late nights and a series of Excel sheets, the friends are desperate to make the best of their situation. Neal is an experienced finance graduate with a specialization in student debt and loans. Ironically, his house is on the brink of repossession due to his own student expenses. His parents urge him to succeed at work and pass along his first paycheck. Isaac faces demands of his own, though in an entirely different regard. His father is a respected and wealthy member of the banking community and forcefully guides his son into following his footsteps. Isaac however, has a serious passion for R&B, Rap and Hip Hop and hopes to impress his colleagues with his gangster freestyle.
Soon after joining the team, the duo discovers Hoss' crooked intentions to exploit student debt and spike interest rates with a new deal. The plans devastate Neal, who was under the impression that Hoss & Associates was an honest investing company. The environment of the office is also extremely sexually charged. Peter Jr. (Brandon Firla) attempts to compensate for his lack of intelligence by harassing and sleeping with as many women as he can. His favorite targets are Diane and Jessica, who eventually become the love interests for Isaac and Neal, respectfully.
The nerdy buddies concoct phased plans to stop the deal from going through. Their amateur spying equipment and lady loves become entwined in the plot, but pressure from Isaac's dad stop the plans from moving forward. When Neal risks his friendship with Isaac to push the investigation, his plan backfires. Unless Neal can find a way to find forgiveness from those around him, the deal will go through.
The film is laced with comedic bits and adult humor. Neal and Isaac's desperate attempts to prove themselves at work will speak to recent graduates struggling to find a full-time job. The film also does a fair job of infusing the sub-plot with the themes of money, sex and power. ~ Nadira Chand