Batkid Begins DVD review – One boy. One dream. One epic day.
By Tribute on October 5, 2015 | 5 Comments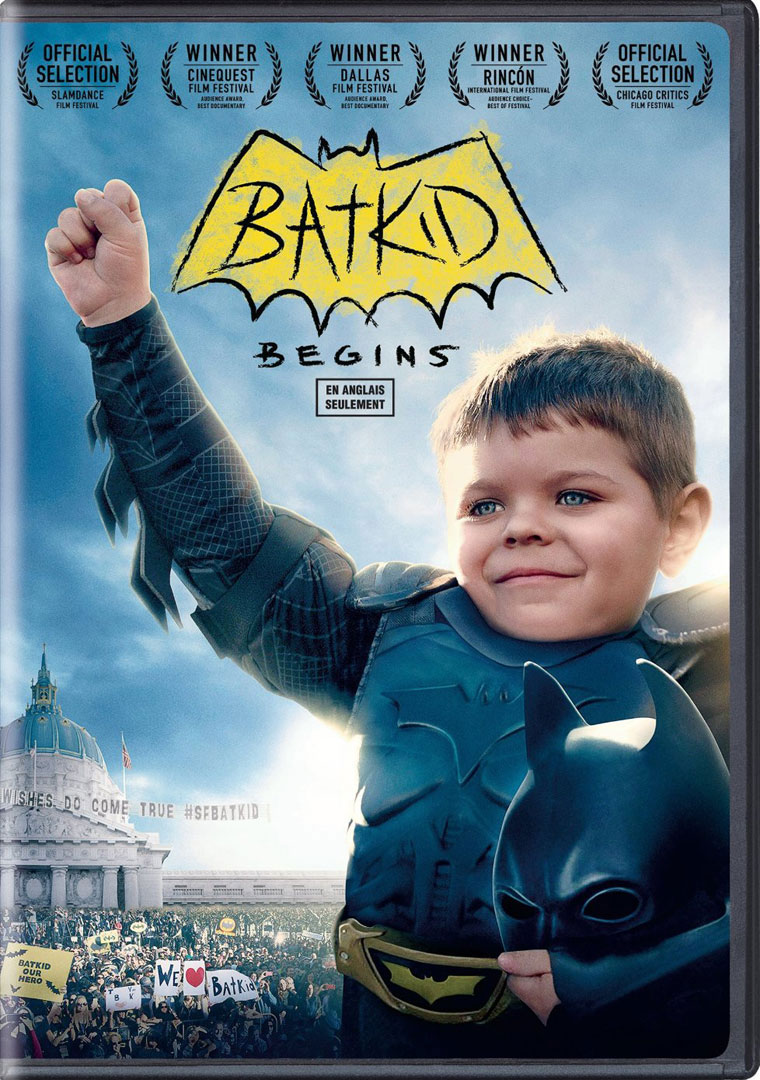 Offer someone a free DVD to watch. Tell them it's a documentary and watch as their excitement over the prospect of entertainment turns to disappointment and their lips form the words "No thank you."
They will argue that movies are supposed to be a diversion and that a documentary doesn't sound like something to watch after a hard day at work or on a lazy Sunday afternoon.
Tell them they're wrong. Tell them Batkid Begins is the story of Miles Scott, a five-year-old Oregon boy, his battle against leukemia and his wish to be Batman for one day. BatKid is a carefully choreographed, tastefully done, beautiful, emotional epic of a movie.
Miles, who only dreams of superheroes and wants to be Batman, qualifies for the Make-A-Wish Foundation. And so it is arranged: the dream become a reality, and Batkid saves Gotham City (represented by San Francisco) from the Joker, the Riddler and the Penguin, on November 15, 2013.
There is never a dull moment – I was completely engaged. In fact, my eyes welled up almost immediately, and while the tears kept flowing throughout, the film also produced smiles, laughter, and finally tears of joy.
Along the way are many everyday heroes and businesses who help make this day possible, including the police chief of San Francisco, the mayor of San Francisco, a local Circus School, stuntmen, Apple, the Burger Bar restaurant, and thousands of everyday citizens from near and far.
Your spirit will soar as you see how how this one little boy and his dream capture the hearts of not only the state of California, President Barack Obama and the entire United States, but Norway, Japan, China, Egypt, the Philippines and Great Britain, to name a few other countries who came to know this sweet and adorable little boy.
What started as a dream that the Make-A-Wish Foundation granted a young boy becomes a truly uplifting documentary that allows us to witness humanity at its best. Tragedy often brings out human kindness, and it is evident everywhere here.
Everyone who got on board the Batkid mobile felt the joy of giving. What they received in return was far more valuable. The smiles and the utter joy that Miles and his family felt was profound. To be a part of that scene had to have been awesome. Batkid doesn't just save Gotham City. He saves all of us as well.
The film won numerous awards, including Best Documentary at the Dallas Film Festival, the Heartland Film Truly Moving Picture Award and the Rogue Creamery Audience Award from the Ashland Independent Film Festival. It is available to purchase tomorrow – October 6 – on DVD/VOD.
Also releasing tomorrow on DVD and/or Blu-ray are: Magic Mike XXL, Me and Earl and the Dying Girl, Insidious Chapter 3, Going Clear: Scientology and the Prison of Belief, Cop Car, Road Hard, Bon Voyage, Charlie Brown (And don't come back!) and Air. Click here for a full list of DVD releases. ~Sharon Salsberg
---
---
---
---
Similar Articles
---
---
---