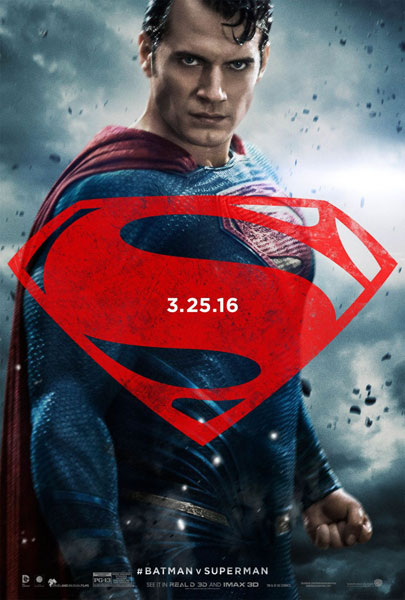 Are you all that surprised? Batman v Superman: Dawn of Justice is winning at the box office and here at Tribute.ca, with its final trailer taking home the top prize as the most-watched trailer of the week. The epic superhero mashup nabbed the win from last week's champ, the faith-based drama Miracles from Heaven, which dropped to second place.
The rest of the top five has the animated feature Zootopia's trailer sitting tight at number three, the trailer for comedy sequel My Big Fat Greek Wedding 2 landing right behind at fourth, and the trailer for 10 Cloverfield Lane dropping from second to fifth. ~Shelby Morton
Take a look at all the top trailers below:
1) Batman v Superman: Dawn of Justice
2) Miracles from Heaven
3) Zootopia
4) My Big Fat Greek Wedding 2
5) 10 Cloverfield Lane
Batman v Superman: Dawn of Justice – Bruce Wayne's Batman (Ben Affleck) and Clark Kent's Superman (Henry Cavill) are pitted against one another when Batman adopts much of society's idea that Superman is a threat to humanity and the source of Earth's chaos. Even though Batman had retired his cape and mask, he dusts them off as he fears for the future of the world with such great power left uncontrolled. However, as the two square off in a vengeful war, a new dark danger arises, capable of total destruction.
Miracles from Heaven – Based on Christy Beam's memoir of the same name, this faith-based tale tells the true story of 12-year-old Annabel Beam (Kylie Rogers) who suffers from a rare incurable digestive disorder, while her mother Christy (Jennifer Garner) searches for a solution. After surviving a freak accident, Anna finds herself miraculously cured of the rare disease.
Zootopia – This animated adventure follows Judy Hopps (Ginnifer Goodwin), a four-pound bunny who wants to become a cop, even though everyone tells her it can't happen. Ever determined, Judy eventually becomes the first bunny accepted into the Zootopia Police Department (ZPD), but is disappointed when Police Chief Bogo (Idris Elba) relegates her to parking duty. When another missing mammal case is brought to the precinct, Judy volunteers for the job.
My Big Fat Greek Wedding 2 – Fourteen years after the original hit movie My Big Fat Greek Wedding, it's revealed that Toula's (Nia Vardalos) parents were never legally married — so, of course, the family decides to plan an official wedding for them. With the addition of Toula and Ian's (John Corbett) teenaged daughter Paris (Elena Kampouris), the movie follows the Portokalos family's shenanigans while planning an even bigger and even Greek-er wedding.
10 Cloverfield Lane – A young woman (Mary Elizabeth Winstead) wakes up in a cellar after suffering a severe car accident. The man (John Goodman) who claims to have rescued her enters the scene and informs her that a catastrophic chemical attack has left the outside world uninhabitable. She harbors her doubts, however, and comes up with a plot to escape, no matter what dangers may lurk beyond the cellar walls.