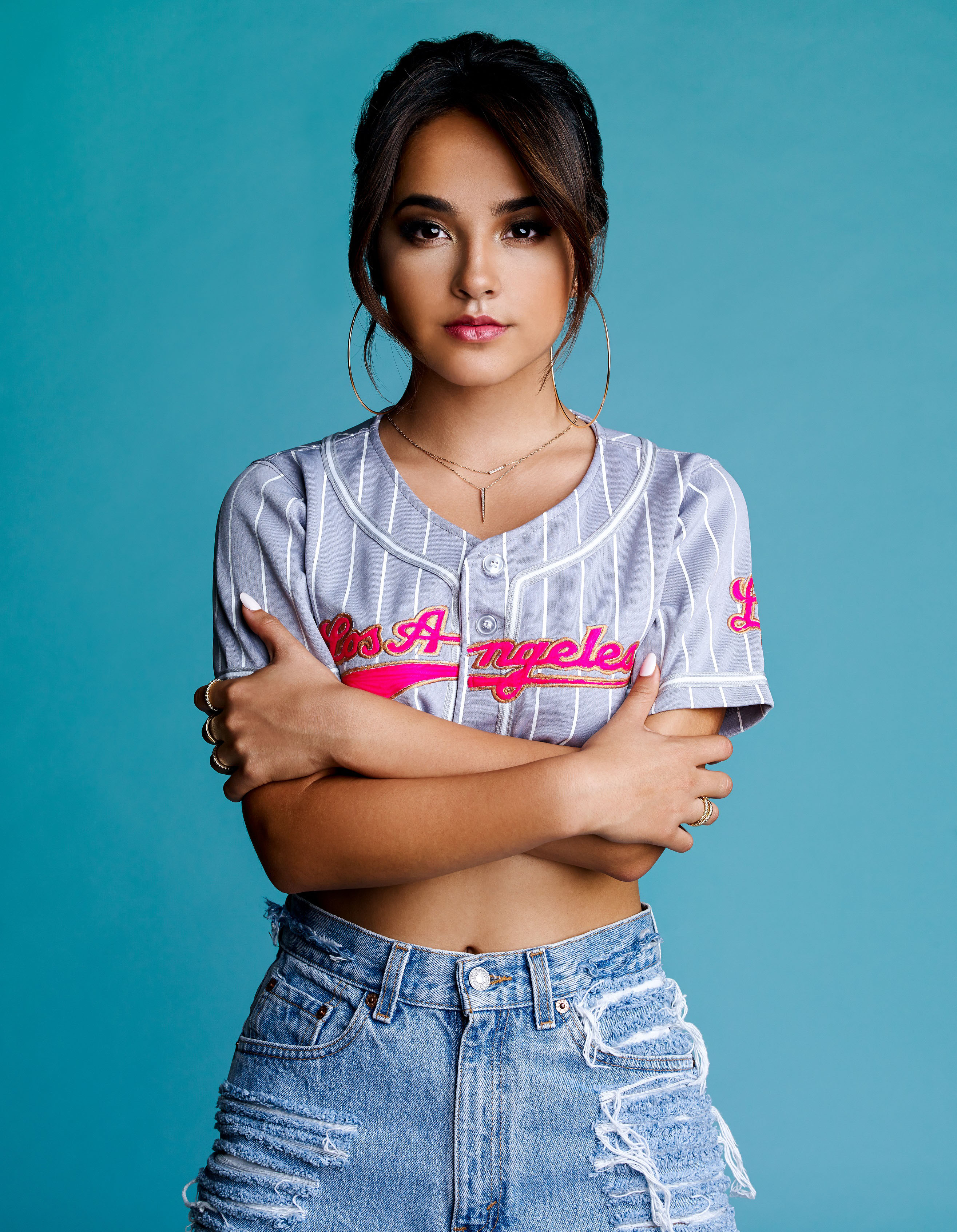 Rising superstar Becky G will be headlining this year's Big Ticket Summer Concert, making her Canadian debut. From the age of 11, the singer has been writing and recording her own songs. Her hit single "Shower" became her first song on the Billboard Hot 100 chart. The young vocal powerhouse has toured with Katy Perry, Demi Lovato, Jason Derulo and worked with Jennifer Lopez and Pitbull. The singer is currently dating singer Austin Mahone. 
We chatted with the 18-year-old singer about making her Canadian debut, working alongside J.Lo, her movie aspirations and of course, new music.
How excited are you to make your Canadian debut at The Big Ticket Summer Concert this year?
I am so excited, you have no idea. All of my friends have nothing but awesome things to say about traveling and touring over there.  I'm pretty excited and honestly, the part I'm most excited about is – there are two parts – one is performing new music as I've been working really hard this year in the studio.  I will have a whole new show ready for everybody, lots of energy. And of course, I'm so excited to meet all my fans.  I have so many fans over there in Canada.  It's going to be so cool to meet a lot of young faces and you know, put on a show for them.
What can fans expect from your show?
I think they can expect a lot of different sides of me.  I am a rapper, but I am also a singer, so a little mix of both.  Also, lots of dancing, I'm going to be taking my dancing and DJ on the road with me, it's so much fun.
You said you were working on new music, are we going to hear some new music?
Yeah, lots of new music. I have a new song called "Lovin So Hard" that I actually performed at the Radio Disney Music Awards.  It was so cool to see the reactions from all the fans and they loved the music video and now I'm going to perform that on tour.  I'm very excited about that, but also lots of other new songs which I can't name just yet.
How would you describe your music?
I would describe my music as fun and storytelling.  The style of the music is very urban pop but when it comes to the lyrics, I'm all about creating a visual.  I like that when I listen to a song, I can picture the music video in my head.  When you listen to my songs, you can picture what it is I'm saying.
Who/what inspires you when you're writing songs?
I would say life in general.  I mean it can be something I go through personally or it could be something that I saw at a coffee shop or it can be something that I watched in the movies, you know like a story or something about somebody I know is going through.  I think that is what is so cool that making music is that you can really do anything with your imagination or you can talk about something that you're going through.  For me personally I like the therapeutic way which is talking about things that you go through.
When did you realize that this was what you wanted to do professionally?
Yeah, well I decided I wanted to pursue this professionally when I was 9 years old.  Which is still really young, I know, but I was in a situation where my family had just lost their home.  At 9 years old, you're at that awkward age where you're old enough to know what's going on but you're too young to actually do something about it.  That was the hardest part for me, especially because growing up I was told that I was an old soul, more mature for my age until I was very aware of the situation and I felt like how am I going to help my family?  We were living in my grandparents' garage, which is the size of my room now.  It was so hard like what can I do to help?  I felt I needed to get out of my house and let me do something to express myself, at the same time, not waste any time in the garage.  Maybe bring in some cheques for my parents with groceries, gas, cereal or whatever it is.  I started acting and singing and my parents were so supportive even though financially we weren't in the best situation.  I started making covers on YouTube and at 14 years old, I got discovered by a really big music producer named Dr. Luke and he and Sony joined together and signed me.  That's when I got my first record deal, I've been working ever since.
"Lovin So Hard" is a great song and so is the music video. What was it like filming that with Austin?
It was so much fun.  It was definitely something to remember.  I remember thinking what I wanted this video to be and at the time, Austin & I had just starting dating.  I was like, "Can we put him in the music video?" It's that fine line because a lot of our people make it sound so scary.  I felt like the most mature way to look at it is that it can only affect us if we let it. For me personally, I always said that I wanted to be honest with my fans, let them in and I'd never lie to them.  It was kind of obvious that we were really into each other so why not?  This was going to be fun and he was all for it.  He was so excited to be part of it and we made it and it's special because now I can look back at it and remember the memories.  The fans can be a part of it too.  It meant a lot for me to have him in the music video.
Will you and Austin be collaborating in the future?
Yeah, we make music together all the time.  I think that's one of the things that we bond over a lot. He's very talented; he writes and produces music.  Hopefully, there was a song we did a while ago that will make it on my album that we made with Dr. Luke, so that would be really cool.  But nothing is set in stone, it's always changing.
Who else would you like to collaborate with?
There's so many people.  I mean I've always been a fan of Bruno Mars, Shakira. I think it would be really cool.  I actually worked with her but never really made music with her, her name's J.Lo.  She's my idol, I absolutely adore her, love her as an artist and as a human being.  I think it would be really cool to have a song with her on my album.
What did you learn from working with Jennifer Lopez and Pitbull?
What I learned is that it's important to take control of your career as an artist.  I mean looking at artists that are not just Latin pop stars but they are known worldwide like in Japan and fans go crazy because they're there.  I look up to them and I'm so proud to be a Latina but at the same time I want to be bigger than that.  There's part of me that there's more to me than that.  They have done that and they've taken their careers to a level that's big that people can dream of.  They're doing it and they're so good people and being around them, the way they've treated people, they are all so genuine and there's a way to take control without coming off rude and they do that very, very well.
How do you balance your personal life with stardom?
It's tough.  It definitely is, I think one thing that my fans know is that my family and the relationships that I carry are so close to me and the hardest part for me is the distance.  Being away from everybody is the hardest but I think at the end of the day you surround yourself with people who support you, who know what you're doing and who have basically supported you your whole life.  They're gonna do everything that they should to make me feel I have their support.  They've been nothing but supportive.  You know I'm actually living my dream with them by my side.
What advice would you give young musicians who look up to you and want to follow in your footsteps?
I would say that the most important thing first is to become confident with who you are. I remember growing up that was the hardest thing, figuring out who you are, what you want to do.  You know what I mean?  I think the hardest part for me was that a lot of people were not quite what they wanted in their life and I wasn't.  I knew who I was and knew what I wanted to do but nobody understood me.  So it was tough you know, how you can be on both sides.  The most important thing was that I found confidence, knowing who I was and what I wanted to accomplish.  Once I was sure of that, I was ready to go up against anything and take the bull by the horn as they say.  So I kind of went for it.  But I think the most important thing was that confidence and be sure who you are and not let anybody stop you.
What's your all-time favorite movie?
That's so hard because I've watched so many movies.  We're a movie family and I have seen so many.  On my days off, that's my favorite thing to do – stay in my pajamas, cook with my mom and we watch like five movies in one day.  I'm a little romantic type of person.  I love romance movies and one of my favorite romance movies is called The Notebook.  It's such a good movie and I mean every single time I watch it, it never fails, I cry.
Do you want to get into acting?
I would love to!  The first thing I adapted into the entertainment business and even though I didn't do on the movie scale because I would be doing commercials and short films and stuff, it would be so cool for me to be on the big screen.  Or being in a TV series because it's another part of me that I'm very passionate about that I feel I haven't really had time to really dedicate myself to.  When the time is right, and the right opportunity comes along, then I'm definitely going to do it.
Thank you so much for chatting with us!
Thank you!
The Big Ticket Summer Concert begins on August 15 and you can buy tickets on family.ca.
~Marriska Fernandes