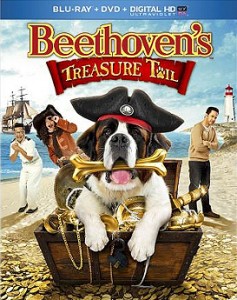 Ron Oliver's Beethoven's Treasure Tail, starring Jonathan Silverman (Beethoven's Big Break), Bretton Manley (Ted) and Kristy Swanson (Buffy the Vampire Slayer) and of course the loveable and cuddly Beethoven, delivers some good old family fun.
The comedy revolves around animal trainer Eddie (Silverman) and his beloved St. Bernard, Beethoven, who get fired from a movie shoot when he stubbornly refuses to perform one of his tricks and stalls production. While road tripping home, Eddie and Beethoven experience car troubles and wind up stranded in a small coastal village. While there, Beethoven befriends a local boy Sam (Manley), whom he rescues from almost falling to his death while searching for buried treasure. Eddie and Beethoven attempt to help Sam locate the buried treasure, to the displeasure of Sam's mother Anne (Swanson), in order to save the quaint town from becoming a shopping mall. However, Sam and Beethoven find themselves in danger when others begin looking for the treasure as well.
Beethoven's Treasure Tail is full of physical comedy that drives the film forward with Beethoven always at the heart of the action. Whether it's saving the day or causing trouble, Beethoven is an adept scene stealer. However, the love story between Eddie and Anne seems thrown in as an afterthought and at times is somewhat awkward. But what the film lacks in content it makes up for in heart. Beethoven's Treasure Tail is a heartwarming film about friendship and acceptance and you can't help but be charmed by the end.
The Blu-ray combo pack includes a Blu-ray, DVD and Digital HD with Ultraviolet so you can watch it anywhere on any of your devices. However, don't expect to see any behind the scenes with Beethoven or a gag reel because the combo pack doesn't come with any bonus features.
Beethoven's Treasure Tail releases on Blu-ray combo pack today. Also releasing this week: America: Imagine the World Without Her, Begin Again, Louder Than Words, My Little Pony Equestrian Girls: Rainbow Rocks, Wish I was Here and Young Ones. Click here for the full list of releases this week. ~Janine Wyslobicky