Before I Fall is not just another clichéd teen film. Wrapped in drama and emotion, this young adult film will appeal to all generations with its strong themes of embracing life, second chances and how you want to be remembered. This is an entertaining film peppered with emotion and gravitas.
Sam Kingston (Zoey Deutch) is a 17-year-old high school student who is a part of the popular clique — a.k.a. the mean girls. She rolls with her group of friends who are almost hated in high school due to how they treat their fellow classmates. The leader of their pack is Lindsay (Halston Sage), who is downright cruel.
But Sam also has her flaws: she doesn't spend time with her parents, is rude to her mom, mean to her baby sister and ignores the sweet kid in school who is in love with her. She also joins in when her group bullies the high school outcasts.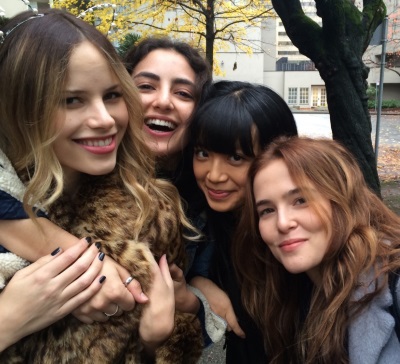 The movie takes place on February 12, which is Cupid Day. On this fine day, students send roses to each other at school. Yes, it's a popularity contest, so you can assume where this is going. Sam and Lindsay get roses and they beam with pride as their classmates watch in dismay.
Later that night, the girls attend a house party and when they see outcast Juliet (Elena Kampouris), they pick on her, enjoying the torment. After a few drinks, the girls head back home. There's a crash and their car overturns. Sam wakes up the next day and it's February 12 all over again.
Sam is on a time loop and each day she tries to change how she spends her day, but the outcome is always the same: waking up in bed on Cupid Day. Sam then has to figure out how to right the wrong and save herself and not just the outcome of the day.
The plot might seem simple, but the emotional roller coaster that Sam goes through on that single day on repeat is incredibly moving. The film is layered with laughs and tears and leaves you with a strong message about making each day count and reflecting on how you treat others. It also delivers the message that everyone, even the popular kids, are capable of feeling they are on the outside.
I found the film extremely entertaining. Zoey Deutch, who previously starred in Vampire Academy and Why Him, is capable of moving audiences with her on-screen presence. We are easily swayed from despising her as the mean girl to empathizing with her on her journey of self-discovery.
Director Ry Russo-Young has given audiences a compelling film with a strong message that is crucial for young adults, and grown-ups, to watch. Before I Fall will give you all the feels, Cupid Day or not.
Click here to read our interview with Zoey and Ry as they discuss the film and Zoey reveals her own "hellish" high school experience. If you have seen the movie and would like to rate/review it, click here. ~Marriska Fernandes