Behaving Badly DVD stars Selena Gomez as teen saint
By Tribute on October 29, 2014 | Leave a Comment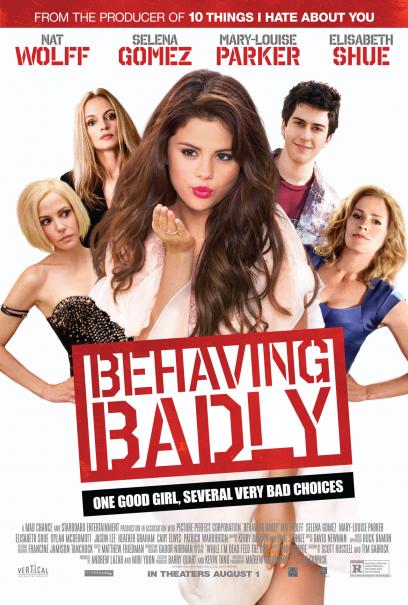 Rick Stevens, played by Nat Wolff (The Fault in Our Stars), has not had the best life up until now. His mother (Mary-Louise Parker) is a depressed alcoholic; his sister (Ashley Rickards, Awkward) strips to pay for her Stanford tuition; he calls his father (Cary Elwes) a "sperm donor" and he recently lost his virginity to his best friend's mother (Elisabeth Shue). When he agrees to a bet to have sex with the school's most popular good girl, Nina Pennington, played by Selena Gomez, his life goes from a mess to a full-on disaster, involving the mob, a badly timed STD and a murder.
Behaving Badly elicits few genuine laughs while it tiptoes the border of sex and raunchiness without ever really shocking its  audience. The only truly shocking thing about the film is how degradingly it treats its female characters. The dichotomy between the female characters is so extreme that any woman who is not a stripper or sex-obsessed is either a nun or, in Nina Pennington's case, a holier-than-thou teenager with an aspiration to become the first female Catholic priest.
It has the structure of a classic '80s teen comedy (a troubled protagonist, a love interest from the other side of the tracks, a supporting cast of extreme characters), but lacks heart and soul. We never understand what Rick likes about Nina in the first place, so we don't root for them to be together. The characters are all so one-dimensional they come off more as caricatures than actual people.
To its credit, the film will perform well with fans of the American Pie series and any over-the-top raunchy teen comedies that have come out in the last decade. It boasts an impressive cast list, who very clearly look like they're having fun. Elisabeth Shue, in particular, gives it her all as a sex-addicted cougar with a taste for underage boys, but goes a bit too far with the actor playing her son. Nat Wolff does a convincing job as a love-struck teenager desperate to date the girl of his dreams, which bodes extremely well for his next film project, Paper Towns, based on a book by The Fault in Our Stars author John Green.
Movie lovers looking for high-calibre filmmaking will be disappointed, but fans of R-rated sex comedies will be pleased, as the movie delivers all the sex, drugs and debauchery viewers expect from these films. ~Kelly Townsend
---
---
---
Similar Articles
May 15, 2018 | Leave a Comment
We chatted with 13 Reasons Why stars Miles Heizer and Ross Butler in Los Angeles about season two, their roles and how the series opens up conversations.
---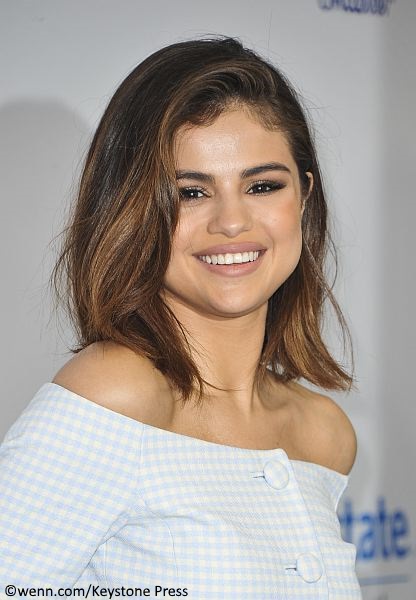 August 29, 2017 | 11 Comments
Singer Selena Gomez's Instagram was briefly shut down after hackers took over the account and posted nude photos of her ex boyfriend, Justin Bieber.
---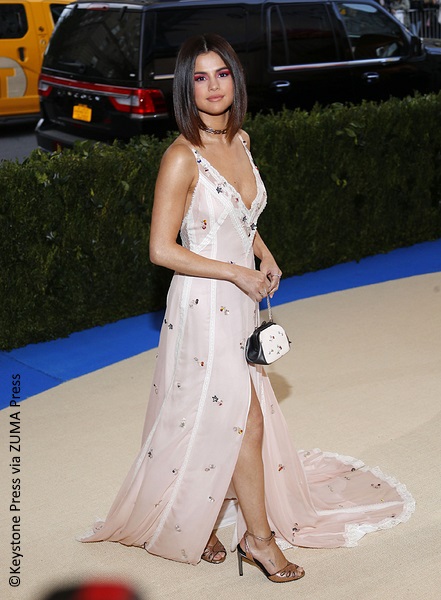 June 8, 2017 | 5 Comments
Selena Gomez has come to the defense of the Netflix show 13 Reasons Why. The executive producer responded to the controversy surrounding the series claiming it's reflective of society today.
---