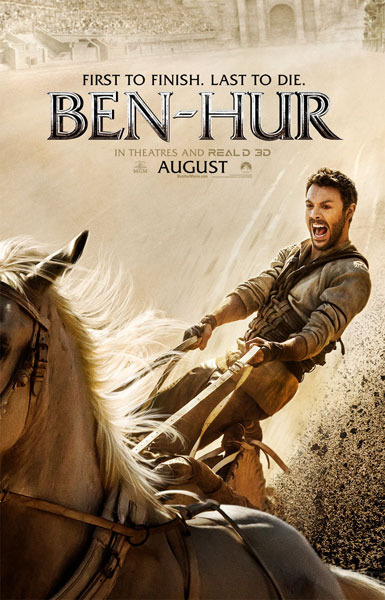 In the fall of 1959, a film called Ben-Hur, based on Lew Wallace's novel, Ben-Hur: A Tale of the Christ, widely considered the most influential Christian novel of the 19th century, was released to the movie-going masses. Directed by William Wyler, it starred Charlton Heston as the title character of Judah Ben-Hur, and it was, up until that point, the most expensive film ever made. It could've easily marked the end of Metro-Goldwyn-Mayer Pictures. But it certainly didn't. The film would go on to take home a total of 11 Oscars and almost $150 million at the worldwide box office, easily recouping its $15.2 production budget and becoming the highest-grossing film of the year.
Lightworkers Media, Paramount Pictures and MGM Pictures are looking to recreate the epic success of the 1959 classic with a reboot set to hit theaters this summer, starring Boardwalk Empire's Jack Huston as Ben-Hur and Morgan Freeman as Ilderim, a Sheik who trains him.
To the less discernible eye, with the upcoming release of Ben-Hur, as well as the recent release of two Biblical epics (the $20 million Risen and $18.5 million The Young Messiah) in just over a month so far in 2016, it could appear that there's been an uptick in faith-based movie releases this year compared to others.
But when you consider the multitude of flicks released in the last couple of years with Christian themes — War Room, Woodlawn, Beyond the Mask, Heaven is for Real, 90 Minutes in Heaven, to name a few — what may actually be changing is the amount of money studios are spending on said films, in both production value and marketing.
This week will see the release of Miracles From Heaven, another Christian drama based on the memoir by Christy Beam, which tells the true story of a girl whose freak accident cured her of a chronic illness. It stars Jennifer Garner, who's been on a major press tour to promote the film, highlighting the miraculous nature of the story, as well as her own Christian values and ties to the Church, clearly marketing the $13 million flick to God-fearing, faithful audiences.
And following that, on April 1, the sequel God's Not Dead 2 will hit theaters nationwide. With the original $2 million God's Not Dead (2014) earning $63 million at the domestic box office, the studios are, not unlike Ben-Hur, obviously looking to capitalize on the success of the first installment.
The production budget for 2016's version of Ben-Hur has not yet been released, but by looks of its epic and CGI-heavy premiere trailer, there's no doubt that a lot will be riding on the success of the movie when it hits theaters on August 12. ~Shelby Morton