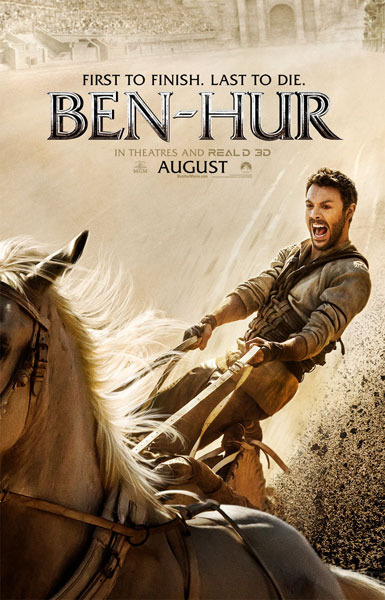 This week's new trailers are loaded with the ingredients moviegoers hunger for. Actions, dramas, and comedies to fantasies, animated projects and musically-steeped pictures, the films given trailer treatment over the last seven days inspire excitement over what theaters will soon screen.
The hottest item on the list without question has to be the first trailer for the epic remake of Ben-Hur.
Another film we got our first taste of is Tim Burton's wondrous Miss Peregrine's Home for Peculiar Children.
Two films sure to reel in droves of people are X-Men: Apocalypse and The Legend of Tarzan. Both are big-budget projects and unleashed their second trailers this week.
There's plenty of other flavors on the menu, though, so don't hesitate to dive into what we've laid out below.
~Matthew Pariselli
Here's a list of the new trailers:
1.) Ben-Hur
2.) Miss Peregrine's Home for Peculiar Children
3.) X-Men: Apocalypse
4.) The Legend of Tarzan
5.) Central Intelligence
6.) Florence Foster Jenkins
7.) Now You See Me 2
8.) One More Time
9.) Happily Ever After
10.) Kubo and the Two Strings
11.) Sausage Party
Ben-Hur– Judah Ben-Hur (Jack Huston) has endured five years as a slave before being in a shipwreck and washing up on shore. Having grown up as a member of one of the most respected families in Jerusalem, he's finally able to return. He seeks justice for the wrongs done to himself and his family by his childhood friend, a Roman named Messala (Toby Kebbell), who had Judah's mother and sister imprisoned. Co-starring Morgan Freeman, this remake is based on the 1880 novel Ben-Hur: A Tale of the Christ by Lew Wallace.
Miss Peregrine's Home for Peculiar Children– When Emma Bloom (Ella Purnell) brings Jake (Asa Butterfield) to a different world, he's shown a magical place known as Miss Peregrine's Home for Peculiar Children. All the children there are different from other people, and Jake finds out he is too. The mystery and danger deepen as he gets to know the residents and learns about their special powers… and their enemies. Under order from Miss Peregrine (Eva Green), Jake is tasked with protecting his new friends from threatening evil forces.
X-Men: Apocalypse– X-Men: Apocalypse promises to be as action-packed and riveting as the other movies in the X-Men family. As the fate of the Earth hangs in the balance, Professor X (James McAvoy), Magneto (Michael Fassbender), Raven (Jennifer Lawrence) and the extraordinary other X-Men prepare for the rising of the first mutant in existence, En Sabah Nur (Oscar Isaac). Also known as Apocalypse, the villainous En Sabah Nur is a highly powerful and cataclysmic force unlike any other the X-Men have encountered.
The Legend of Tarzan– Having adapted to civilization, Tarzan (Alexander Skarsgård) is now living a comfortable life in London as John Clayton III, a.k.a. Lord Greystoke. He's invited back to the Congo to serve as a trade emissary of Parliament, unaware that he's a pawn in a deadly convergence of greed and revenge, masterminded by Captain Leon Rom (Christoph Waltz). Margot Robbie and Samuel L. Jackson co-star in The Legend of Tarzan, directed by David Yates.
Central Intelligence– Central Intelligence is the story of former geek-turned-lethal CIA agent Rob (Dwayne Johnson), who reconnects with the "big man on campus" from his high school days, Calvin (Kevin Hart), now an accountant, to solve a top-secret case. With the tagline, "Saving the world takes a little Hart and a big Johnson," this action-comedy co-stars Aaron Paul and Amy Ryan.
Florence Foster Jenkins– The true story of the legendary New York heiress and socialite who obsessively pursued her dream of becoming a great singer, despite having a hilariously awful voice, Florence Foster Jenkins stars three-time Oscar winner Meryl Streep in the title role. Florence's husband St. Clair Bayfield (Hugh Grant) generously offers to support her and enlists the help of a vocal coach, all in an effort to aid Florence in filling Carnegie Hall for a performance.
Now You See Me 2– One year after outwitting the FBI and winning the public's adulation with their Robin Hood-style magic spectacles, The Four Horsemen (Jesse Eisenberg, Woody Harrelson, Dave Franco and Lizzy Caplan) resurface for a comeback performance in hopes of exposing the unethical practices of tech magnate Walter Mabry (Daniel Radcliffe). Now You See Me 2 co-stars Michael Caine and Mark Ruffalo.
One More Time– One More Time follows an over-the-hill, Sinatra-esque crooner (Christopher Walken) as he wallows in his glory days and dreams of the satisfaction a comeback record could bring. When his down-on-her-luck aspiring rock star daughter (Amber Heard) is foced to move into his Hamptons mansion, they try to repair their troubled relationship as they realize their lives are being redefined by the other person's presence.
Happily Ever After– Happily Ever After is the story of Heather (Janet Montgomery), an edgy documentary filmmaker, who returns to her small hometown to care for her ailing father. Everyone's surprised to see her, but most of all her former high school best friend Sarah Ann (Sara Paxton). At Sarah Ann's request that Heather film her wedding, she reluctantly agrees, and memories come flooding back as the two reminisce on a past shared crush.
Kubo and the Two Strings– In a mythical, ancient Japan, kindhearted Kubo finds himself on the run from gods and monsters, and his only chance for survival rests on finding the magical suit of armor once worn by his fallen father, the greatest samurai the world has ever known. The animated Kubo and the Two Strings features the voices of Charlize Theron, Matthew McConaughey and Rooney Mara.
Sausage Party– Sausage Party is the first R-rated CG animated movie, and follows a sausage named Frank (voiced by Seth Rogen) who leads a group of supermarket products on a quest to discover the truth about their existence and what really happens when they're plucked from the grocery store. James Franco, Kristen Wiig and several other notable actors lend their voices to the project as well.