Ben-Hur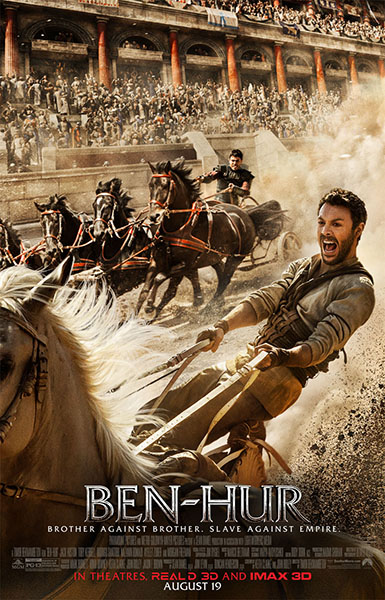 is back on the big screen! After more than half a century, the ancient Roman epic has been remade.
Judah Ben-Hur (Jack Huston) is a respected Jewish prince and nobleman. He lives in Jerusalem with his sister Tirzah (Sofia Black-D'Elia), his mother Naomi (Ayelet Zurer) and their family servant. Living with the family is Messala Severus (Toby Kebbell), a Roman boy adopted by the Ben-Hur family. Judah and Messala are best friends who do everything together.
Unfortunately, political turmoil between the Romans and the Jews is taking its toll on Jerusalem. As the Roman Empire tightens its grip on Jerusalem, a resistance begins to emerge. Things are made worse when Messala decides to join the Roman army. When he returns, he and Judah are at odds.
When Judah is found to be harboring members of the resistance, he and his family are arrested by Messala. Messala is angered that Judah chose the resistance over him. Judah becomes a Roman slave, vowing to one day find his family.
This is a dense story to say the least. A hardcover copy  of the 1880 novel could stay still in a tornado, and the 1959 film is over three and a half hours long!
So what did Ben-Hur (2016) do right? The costumes, sets and cinematography. All were done impeccably. I commend the filmmakers for commissioning real sets for the city of Jerusalem. Yes, some CG was used, but that's commonplace in almost every modern movie. So many of the great Biblical/Roman movies were made so long ago that it's nice to see modern production values synchronized with classic imagery.
The acting was great as well. I particularly commend Jack Huston and Toby Kebbell as Judah and Messala. I was also completely blown away by Sofia Black D'Elia as Tirzah, Messala's love interest. She isn't given as much screen time as other actors, but she shines like a diamond in every scene she's in. To Messala's tempestuous anger and passion, she is the force of peace that stops the rising floods of wrath.
The action in Ben-Hur is a sight to see. The movie does its best to use real horses as often as possible. Some may like this decision, others may not, but if you want to see real horses racing, you will not leave disappointed.
My main gripe with the movie is when I compare it to the 1959 Ben-Hur. It still holds up today and in my opinion it did a better job building up Judah as the film's protagonist. Also, in the three-plus hour original, the famous chariot race was based less on action and more on the internalization of the character's emotions.
That isn't to say that the new movies doesn't have great characters, it just feels like some of Judah's crucial scenes were cut — including him training for the chariot race. In the new film, it looks like he trained briefly on the morning of the race.
I would be remiss to exclude mention of Jesus Christ (Rodrigo Santoro). Jesus plays a big part in this movie, and his Crucifixion is brilliantly shot. I also commend Santoro for his performance. Playing Jesus in a wide release film must be a nerve-wracking experience, but he did a great job.
If you like ancient Rome, the Bible, and/or the original Ben-Hur, you'll probably also enjoy this new Ben-Hur.
Have you seen Ben-Hur? Click here to write your own review. Feel free to leave your thoughts on this review in the comments. ~Yanis Khamsi