Ben Savage and Rowan Blanchard talk Girl Meets World
By Marriska Fernandes on August 21, 2014 | 4 Comments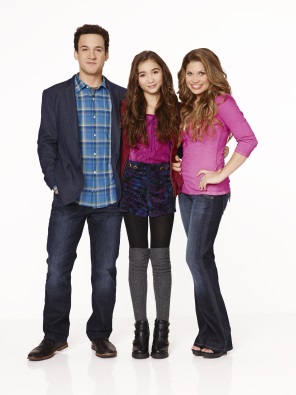 If you grew up in the '90s, then you'd remember Boy Meets World, which starred Ben Savage as the young Cory Matthews. Now, 14 years after the show bid farewell, Girl Meets World kicks in. Ben and Topanga are married and the focus of the show is their daughter Riley, played by the adorable Rowan Blanchard.
We caught up with Ben and Rowan who were more than happy to give us a scoop on what it's like to play father and daughter.

Ben, what was it like to return to the show after 14 years?
It was exciting and it was a little nerve-wracking. It was a little nerve-wracking because I was unsure how I was going to play this character 14 years older. People remember this character, Cory Matthews, very fondly as one way — sort of as this funny, quirky, neurotic guy. I was a little apprehensive about how I was going to play him now, 14 years later as a dad with two kids. I think after a few episodes or maybe after a couple of days, things sort of naturally fell into place. It's like riding a bike. It was an easier process than I thought it would be. So far, it's been a lot of fun.
Did you have any challenges with the role in a completely new setting?
I was a little apprehensive about how to play the character. I've really enjoyed playing the character from a different perspective — from the older perspective, from being a dad and being a teacher.
Rowan, did you watch the show Boy Meets World before you began this series?
I had seen one or two episodes along with Full House and Sabrina the Teenage Witch. When I got the role, I went back and watched every single episode.
What was it like taking on the role of the iconic couple's daughter?
Getting to play the iconic character's child was very cool. Getting to work with them every week was very cool. I was very excited about this project because even the episodes I'd seen of Boy Meets World, I saw that overall they valued real life lessons and yet I was still laughing. So, I knew that hopefully this project would be similar to that. There hadn't really been something that was like that for my age group. The thought that we're doing that again is very exciting.
Rowan, did you face any challenges while making the new series?
Sure. It can be hard coming into a new role and I think some of the episodes required me to step out of my comfort zone. As an actor, it's been challenging but it's also been beneficial.
Ben, how much of a say did you have in the casting of Rowan?
That depends who you ask (laughs). We were there for the casting. We met with a lot of girls. When Rowan came into the room, I felt that she was the perfect embodiment of Cory and Topanga and I thought that she would represent that character very well. We were excited she was there.
Ben, did you have déjà vu moments during the making of the series?
I have déjà vu moments 25 times a day. We're working with the same writers and producers and crew members and obviously cast members from the original series. There's a lot of times I'll be in the middle of a scene and I'll look up and feel like it's 1996 again. It's really, you have all these sorts of flashbacks. I think that's what makes this show so special, that's what's made this show such fun for all of us.
How has the show adapted for the new generation?
I think it's a difficult time for kids now, far more difficult than it was for kids 20 years ago when we were doing the show. The world has gotten so much more complicated and changed so much because of technology, social media and cell phones. It's very hard to be a kid now. It's a lot less carefree and innocent. We are definitely writing stories and episodes that deal with those issues and address those issues. I think that was one of the reasons we were so excited to do this show again. It was an opportunity to tell some new stories.
Ben, what's the mood like on set with the new and old cast combined together?
The mood's fun! We're always seeking to create a fun, lively atmosphere on set. I certainly am because I think that translates well in the show. I think that comes across in the episodes that these characters are having fun and enjoying each other's company.
Do you each have a favorite episode?
Rowan: I have a top three. One of my favorites is Girl Meets Home For the Holidays, which is our kind of reunion episode. I think the reason I love that episode so much is because I think it set so many character relationships up that maybe you've not expected. We have Al and Amy come back and Rider, who plays Shawn, is in the later seasons of Boy Meets World. Some fans will remember Joshua who was Cory's little brother, who's all grown up. That's definitely one of my favorites.
Ben: My favorite episode? That's a hard question. I think I enjoy certain parts of every episode. I'm enjoying being the teacher and I'm enjoying the classroom scenes. So any episode which has a classroom scene…
Rowan: Which is almost every episode! (laughs)
Ben: Which is almost every episode (laughs), where I'm teaching, I'm really enjoying. It's a new aspect for Cory Matthews and I think he's getting pretty good at it.
Has the role as a dad given you a few tips on parenting, Ben?
It has, on and off the set. I'm a dad on the show and I have two kids on the show. I'm learning everyday what it's like to be a dad in real life. On top of that, I'm working with all young people. I'm definitely getting a lot of good pointers and tips for what it's like to be a dad. Hopefully when I'm a dad, I'll be ready.
Rowan, which guest star celeb would you like to guest star on the show?
There's Selena Gomez and Hilary Duff, I love them both.
Girl Meets World airs Fridays on Family Channel. ~ Marriska Fernandes
---
---
---
---
Similar Articles
---
---