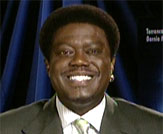 Stand up comedian turned actor, Bernie Mac, passed away early today at a Chicago hospital  of complications due to pneumonia.  Publicist Danica Smith would not go into more detail. 
Best know for his role in Ocean's Eleven and his critically acclaimed TV show The Bernie Mac Show, Bernie was very active in the African American community and was referred to as an ambassador of Chicago's black community.
Oceans co-star George Clooney has been quoted to say "The world just got a little less funny".
Mac is remembered by his wife of 34 years, and daughter Je'Niece.
Bernie Mac  1957 – 2008