Room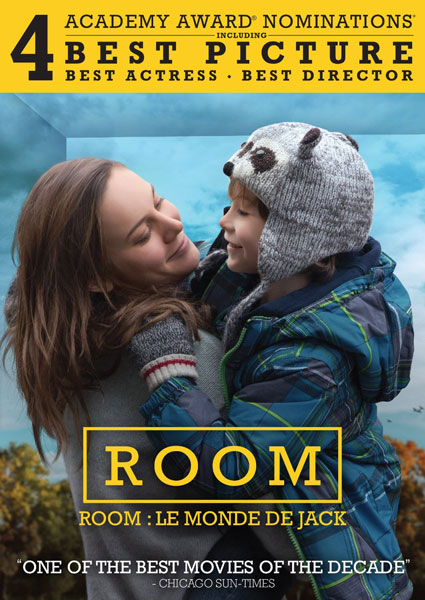 was nominated for Best Picture, Best Director and Best Screening at the Academy Awards, and won in the Best Actress category for star Brie Larson. An indie film shot in Toronto, probably not much was expected from it, but this is the little film that could. It screened at the Toronto International Film Festival, where it won the People's Choice Award, and went on to win 74 more awards (so far) from film societies and critics associations around the world.
It's based on the novel by Emma Donoghue, who also wrote the screenplay. She didn't base it on a true story, but it came out at a time when several women who'd been held captive for years since they were teenagers were discovered and finally released – and some of them had children born in captivity. Room could be a horror story, but it's far from that. The book is seen through the eyes of five-year-old Jack (in French it has the subtitle The World of Jack), who has no idea that there's a world outside of the 11′ by 11′ room he and his Ma occupy. That is, until she tells him.
She doesn't know the name of her captor, referring to him simply as "Old Nick." Old Nick has kept her captive in a backyard shed with no windows for years. There's a keypad lock on the door and the shed is insulated for sound. Inside the room, they have a bed, a wardrobe (where Jack hides whenever Nick comes for a visit), a sink, a bathtub, a toilet and a television. Jack is confused about what's real and what's on TV. He's never seen a tree, or grass, or other people, and thinks they're just magical creations that appear on the small screen.
But soon after his fifth birthday, Ma tells him the truth. That there is a world out there. That she was a girl with a mother and father, who stopped to help a stranger who claimed to have a lost dog. And that Jack will love the world once he sees it.
The little boy is reluctant to hear all of this — it's almost too much for him to comprehend. Never having known anything else, he loves Room. But he's finally convinced to go along with his Ma, who has come up with a plan. She first tells Old Nick that Jack is sick during a visit, then when he returns a few days later, she says Jack has died and she's rolled him up in a carpet so Old Nick can dispose of the body.
The plan is for Jack to unroll himself in the back of Old Nick's truck, then jump out and run up to the first person he can find and ask for help. In the book, because the story is all from Jack's point of view, you don't realize how empty Room is when Jack is carried out in the carpet. In the movie, we see Ma close the door and lean against it, alone for the first time in five years. Terrified that something will go wrong and her son will be harmed. Hopeful that all will go well and she'll soon be free again. It's a moment that gave me a shiver of fear, even though I'd read the book and knew what would happen.
Brie Larson's performance is subtle, yet deep, and the pain and hope and frustration Ma feels just rolls off the screen. When she discovers Jack is safe and she runs towards him, it's hard not to sob in relief that both she and Jack are alive, that they're free and that they're finally safe. It's Brie's performance that brings that out. With a lesser actor in the role, that moment (and many other moments) would not have had such emotional impact.
Her onscreen partner, Canadian child actor Jacob Tremblay, in the role of Jack, gives just as incredible a performance. He obviously had help from director Lenny Abrahamson, but his performance is always spot-on, there's never a false note. Jack also feels frustration – at having his world ripped apart and because he suddenly has to share his Ma in this strange new world. He feels confusion, because there are so many adults and he doesn't understand what's going on or what they're talking about. He feels wonder because there are so many new things to look at and consider. He also feels fear because everything and everyone is so strange. What gets him through this is the strength of his Ma, but when her strength wavers, he has to find strength within himself. That's a lot for an eight-year-old to portray, and Jacob Tremblay does it perfectly.
He didn't get an Oscar nomination, which was surprising, but he's received 19 other nominations, including from the Screen Actors Guild and the Canadian Screen Awards (which take place on March 13 in Toronto). So far he's won 14 awards, including Breakthrough Performance from the National Board of Review. A charmer, he's become the darling of awards season, and the youngest actor to present an Academy Award.
The special features on the Blu-ray including Making Room, which is about the making of the film and includes an interview with author/screenwriter Emma Donoghue, in which she reveals that she began writing the screenplay before the book was even published. We also get a look at how the actors came to be cast (although no audition tapes, darn); as well as behind-the-scenes interviews with Brie, Jacob and Joan Allen, who plays Ma's mother. 11 x 11 is a feature about the actual making of the room in the film where Ma and Jack are held captive. Emma says it's a little bit bigger than she'd pictured it when writing the book, but watching the crew put it together, you realize how very small it is and how awful it would have been for Ma to live in such a cramped space for so many years. Recreating Room shows how the 11′ x 11′ room was dismantled, then shipped to Los Angeles and recreated inside a gallery during the movie's theatrical release in October 2015 for moviegoers, press and industry professionals to visit as part of a curated multi-media exhibit on the making of the movie.
Click here to watch our interviews with Brie Larson, Jacob Tremblay, Joan Allen, director Lenny Abrahamson and author Emma Donoghue at the Toronto International Film Festival.