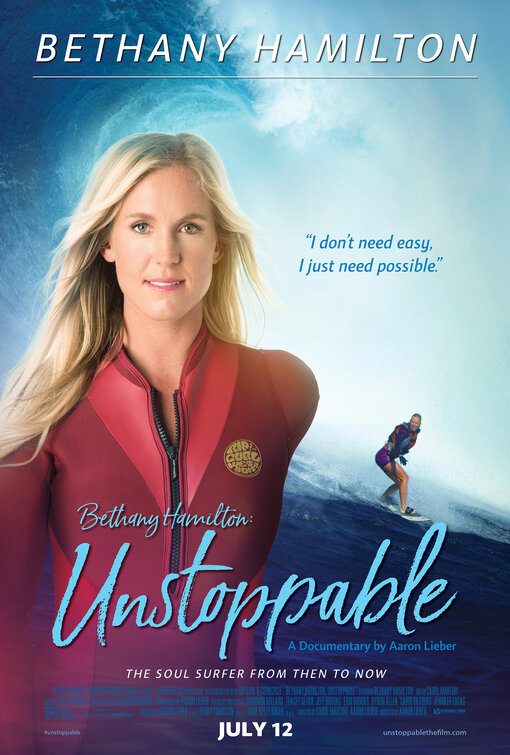 Bethany Hamilton: Unstoppable is the inspiring true story about a resilient young surfer determined to show the world her talents.
In the documentary we see a young Bethany Hamilton growing up in Lihue, Hawaii, where surfing is the way of life and an everyday routine for her and the people around her.
Growing up, her greatest competitors were her friends. She and her best friend Alana Blanchard had an unbreakable bond, and a healthy competition that was like none other. Bethany was constantly pushing the envelope, seeing what more she could do to be the best, and Alana was right behind her every step of the way.
When Bethany's coach would tell her to jump, she would say how high, when her coach told her to run a lap, she would run two, and she did it to show not only others, but herself that she was capable.
The years leading up to Bethany's accident were crucial, as they were the fundamental building blocks that would prepare her for what was next. Bethany wanted to be the best in the world, and she was en route to being just that, until she was the victim of a shark attack, when she dangled her arm over the side of her surfboard. A traumatic experience such as this one might have deterred a regular 13-year-old, but Bethany was different. Within a month's time she hopped back on her surfboard, proving to the world that she was unstoppable.
The film takes us into the world of Bethany Hamilton, where we see her propelled into the limelight when the media caught wind of a teenage girl without an arm fighting to win her first national surfing title. She appeared on The Oprah Winfrey Show and The MTV Video Music Awards, as well as in several documentaries, and even released her own book in 2006, titled Soul Surfer: A True Story of Faith, Family, and Fighting to Get Back on the Board. The book was made into a movie, Soul Surfer, in 2011.
Bethany's story is based on determination, faith, and hope. Throughout the film she discusses how strong a factor God was in her life. Before and after the attack, she was praying to God for everything she did.
Bethany had an extremely close inner circle, a close relationship with her parents, brother and with her friends. However, it was her husband Adam Dirks, whom she met and married within the span of a year, who is at the crux of her success. There is no one more involved and supportive than her husband, and it truly shows in the film.
Losing her arm when she was 13 was a setback, and Bethany faced another hurdle when she became pregnant. She worried about losing everything she worked so hard to gain. Yet, she proved once again she was unstoppable when she returned to surfing after having her baby, beating a six-time world champion and the top-ranked surfer in the world at a major World Surf League competition.
This documentary is not only truly an inspiration, but the cinematography is otherworldly. In the movie, Bethany travels from Hawaii to many other countries, and the vast blue oceans that we have the opportunity to witness in these locales are absolutely breathtaking.
There is never a dull moment in this documentary, and if for one second there is, your eyes are too preoccupied taking in the spectacular natural beauty seen from country to country.
If you have seen Bethany Hamilton: Unstoppable and you would like to rate/review it, click here.