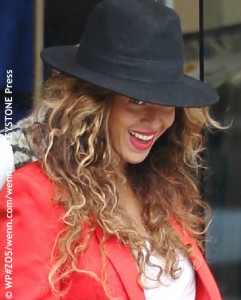 Thanks to Beyoncé, now we can be "Flawless," too.
If you can give up pizza and wings.
With the help of her trainer Marco Borges, Beyoncé has launched a new home delivery service called 22 Days Nutrition, which brings vegan meals right to your front door. The 22-day plan is based on the theory that it takes 21 days to form a new habit (or break a bad one). In theory, by day 22 your new eating habits will have stuck.
"I am so grateful that I look the challenge and credit Marco with leading by example," Beyoncé said in a statement. "He is the most energetic person I know and it's because of his decision to live a healthy lifestyle."
The meals – which are non-GMO, gluten-free, dairy-free, soy-free and organic – are delivered once a week and are 100 per cent plant-based.
"We all know the importance and value of eating plant-based foods," Marco said, "but often times find ourselves trapped in a series of bad habits that sabotage optimum wellness. The Vegan Meal Delivery program makes it easier to reset your habits with healthy and delicious plant-based foods."
Prices range from $9.76 to $16.50 per meal.
"All you have to do is try," Beyoncé said. "If I can do it, anyone can." ~Sandra D. Sukraj