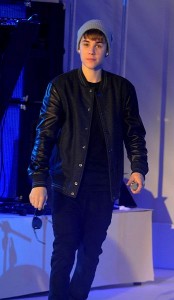 You would never know that Justin Bieber was facing hard times. Despite dealing with rumors that he has fathered a child, the pop star shows fans his spirit is not broken.
Bieber fever hit London, England causing chaos as thousands of fans turned out to see "the Biebs"  turn on the Christmas lights at two shopping centers.
The singer, who picked up two awards at the MTV Europe Music Awards in Ireland last weekend, hosted by his girlfriend Selena Gomez, flew into the city following the ceremony to launch the holiday shopping season.
After his appearances, he took to Twitter to thank his fans after learning many of them had been waiting all day to catch a glimpse of the young pop idol. He wrote, "Thank you to all the fans that came out today for the tree lightings. wouldnt be here withoutyou. so grateful for your support. MUCHLOVE."
Meanwhile, Bieber is already making holiday plans, explaining that it is his favourite holiday. "It's the most special time of year for me."
As soon as Justin Bieber returns from a European promotional jaunt in two weeks he will take a paternity test to prove that he did not father a child with a fan who has claimed the pair had a backstage tryst.