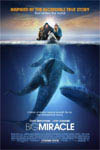 Big Miracle is based on the true story of a small town news reporter (John Krasinski) and an animal-loving volunteer (Drew Barrymore) who rally an unlikely coalition of Inuit natives, oil companies and rival world superpowers to set aside their differences and save a family of majestic gray whales trapped by rapidly forming ice in the Artic Circle.
In this exclusive featurette, Drew Barrymore talks about her character Rachel Kramer, based on real-life Greenpeace activist Cindy Lowry.
Big Miracle opens February 3.