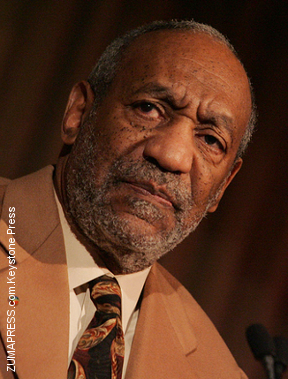 Helen Gumpel (née Selby) has become the latest woman to accuse Bill Cosby of sexual assault.
The former model, who appeared on an episode of The Cosby Show in 1987, alleges Bill called her back to the set after filming and offered her a drink. She claims this was an attempt to drug her. She also alleges he then turned towards her and put his crotch in her face.
According to Helen, it's been hard to her to find work since the alleged incident took place. "I never thought of myself as a victim because I refused his advances," she stated at a press conference. "But my career was a victim."
The accusations coincide with the 77-year-old comedian's decision to cancel back-to-back shows in Boston, citing weather as the reason.
He released a message to his fans saying:
"Dear Fans: I was looking forward to hearing your wonderful applause and seeing all those smiling faces. Due to weather advisories reporting the continuation of snow and possible sleet as well as the late hours of my shows — I have decided to cancel for your travel safety. No need to worry, I will be back soon to raise the roof with laughter. I thank you, the theatre staff (Wilbur Theatre), the event organizers and the Boston Community for your love and support. Don't forget I said, I will be back soon. Hey, Hey, Hey — I'm Far From Finished."
There have been at least 30 accusers so far; however most of the alleged incidents occurred decades ago. Due to the statute of limitations, he cannot be prosecuted.
Bill has not been formally charged and maintains his innocence. ~Sandra D. Sukraj