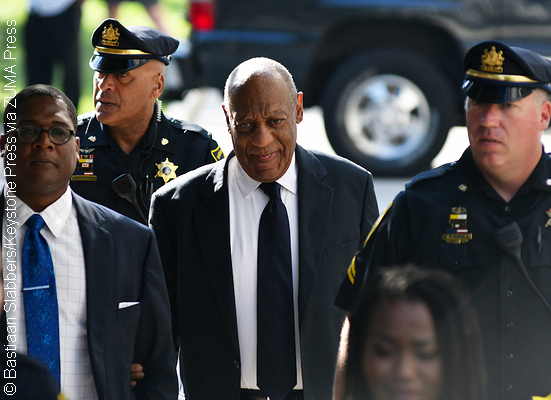 Bill Cosby's sexual assault allegations have been making headlines for a while now, with Cosby having been officially charged back in 2015. Now the case has finally come to trial and is in the deliberation stage.
A brief overview: The comedian and Cosby Show star was charged with three counts of felony aggravated indecent assault, stemming from a 2004 encounter with the accuser, Andrea Constand, 44, who alleges Cosby drugged her at his Philadelphia home and engaged in sexual acts without her consent. Cosby's defense team argues that the two were in a relationship at the time and it was consensual. If convicted, Cosby, 79, could face up to 10 years in prison as well as be forced to register as a sex offender.
After a year and a half of trying to have the trial delayed or dismissed entirely, Cosby entered a Pennsylvania courtroom on the morning of June 5th. Constand took the stand to testify against Cosby.
While Cosby did not testify at his trial, a decade-old deposition testimony he gave during Constand's civil suit against him armed prosecutors with evidence. In the deposition, Cosby says he relaxed Constand by giving her Benadryl before fondling her, but prosecutors assert he gave her something much stronger.
More than 60 women have accused Cosby of assaulting them with incidents going as far back as the 1960s. Hollywood litigator Pierce O'Donnell highlights the fact that this is the 21st century's biggest celebrity criminal trial and may even be bigger than the O.J. Simpson trial, telling Deadline, "Bill Cosby's criminal trial is the celebrity criminal trial of the new 21st century. In many ways, Cosby is a far more luminous public figure than O.J. Simpson; he was a national treasure, a beloved icon, and a revered pioneer for Black Americans. His fall from grace is mind boggling."
Cosby's daughter, Evin, took to social media in April to assert her father is "not a rapist." But while Cosby may have been determined guilty in the court of popular opinion, the court of law is currently out on deliberation. The jury, comprised of five women and seven men, began deliberations on Monday, but has yet to come to a verdict.
Sequestered, they are now entering their third day of deliberations. The jury will continue to review the evidence presented in the case and have been asking the judge, Steven T. O'Neill, questions relating to clarification of any information presented to them.
There can be no doubt that Cosby, along with the rest of the country, waits with bated breath to see what fate awaits him.
What's your opinion on the Bill Cosby trial? Let us know in the comment section below! ~Alexa Caruso