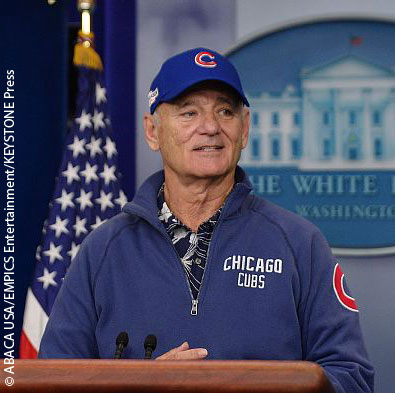 Loyal Chicago Cubs fan Karen Michel, who traveled from Whiting, Indiana to Cleveland's Progressive Field, had watched the first five games of the World Series on television, but decided to go see if she could somehow get a ticket to the sixth game.
She was hoping maybe someone would have an extra ticket to sell, telling MLB.com, "I was thinking, maybe somebody didn't use their ticket and they'll want to resell it," but she was out of luck. She'd turned away, about to give up, when actor Bill Murray spotted her (she was wearing a Chicago Cubs No. 18 Geovany Soto jersey) and handed her a ticket.
"He turns around and says: 'Here, here's a ticket,'" she revealed. "And he kind of shuttled me into the door. I thought it was just a ticket to get in. But it was a ticket to sit right here."
By right here, she meant the seat right beside him, just a few rows behind home plate. The seats were in a premium section, and other celebs on hand to catch the game were Eddie Vedder of Pearl Jam and NBC's Al Roker.
Karen said she and Bill chatted about their childhoods and of course, their favorite team, the Cubs. Bill grew up near Chicago in the suburb of Wilmette and was similarly dressed in a Chicago Cubs jersey and cap. MLB.com's Twitter Cut 4 tweeted a photo of Karen and Bill (see below) in their seats.
Karen must have brought the team luck, as they won with a score of 9 to 3 against Cleveland, forcing a seventh game.
Bill Murray gave a random @Cubs fan his extra #WorldSeries Game 6 ticket because that's just how Bill Murray rolls: https://t.co/Mxr5uCcFS3

— Cut4 (@Cut4) November 2, 2016