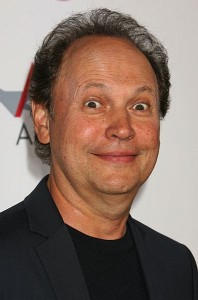 Since Brett Ratner and Eddie Murphy resigned from their posts as producer and host of next year's Oscars, many were wondering who would fill those big shoes of entertaining Hollywood's biggest and brightest event. Not to worry because Billy Crystal has saved the day!
New producers Brian Grazer and Don Mischer have officially announced that Billy will serve as host for the 84th Academy Awards. "I'm thrilled to welcome Billy back to the Oscar stage," said Academy of Motion Picture Arts and Sciences president Tom Sherak. "He's a comic legend and Oscar icon, and it feels good to have him back where he belongs."
Commented Grazer, "Like so many others, I've been eager to see Billy host again. It's very gratifying that he agreed to do it with Don and me at the helm."
"With Billy, we're moving forward with one of the greatest hosts in Oscar history. His return to the Oscars is, in a sense, a celebration," Mischer said. This will mark Crystal's ninth time as host. Only Bob Hope has hosted more Academy Awards presentations, with 19 ceremonies between 1940 and 1978. Crystal last hosted the Academy Awards in 2004. "Some of the best moments of my career have happened on the Oscar stage. I am thrilled to be back there. Actually, I am doing this so that the young woman in my pharmacy will stop asking me my name when I pick up my prescriptions," said Crystal.
Having a great track record with audiences, Crystal is sure to once again raise the bar and put on a funny and entertaining show.