Billy Lynn's Long Halftime Walk – movie review
By Tribute on November 18, 2016 | 1 Comment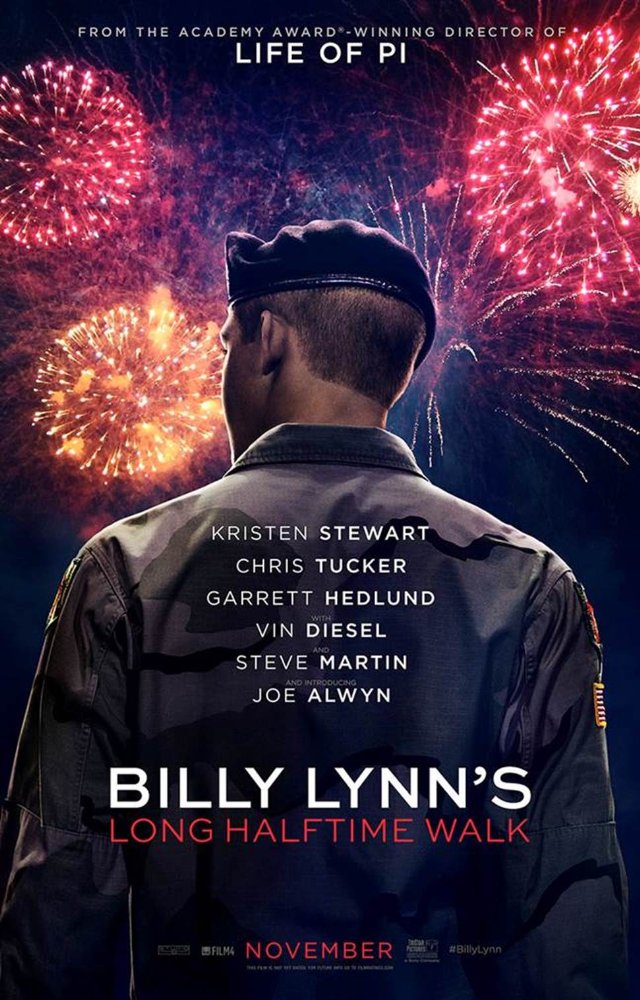 The psychologically crippling effects of armed combat are a consequence of war that only soldiers understand. Military veterans can be comforted by loved ones, but the horrors of war that unrelentingly haunt troops if they return home are incomprehensible to the vast majority of people.
Like other films before it — including The Deer Hunter (1978), Coming Home (1978) and Born on the Fourth of July (1989) — Billy Lynn's Long Halftime Walk seeks to explore the deep and dark implications of war on the psyches of those with blood on their hands and bomb blasts echoing in their ears.
Adapted from Ben Fountain's 2012 award-winning novel of the same name and directed by two-time Oscar-winner Ang Lee (Brokeback Mountain, Life of Pi), it revolutionizes the film-going experience — it's the first film to employ 120 frames per second technology (the standard is 24 frames per second), stuffs each frame with four times the normal number of pixels, and was shot in 4K resolution and 3D — but at its heart is an intimate human story.
Set in 2004, the film follows 19-year-old protagonist Billy Lynn (newcomer Joe Alwyn) as he and his Bravo Squad of Iraq War soldiers get flown home to the U.S. for a two-week victory tour that culminates with a role in the Dallas Cowboys' Thanksgiving halftime show.
The production is headlined by Destiny's Child and in the action leading up to the performance, it's revealed that Billy has been thrust into the spotlight and heralded as a hero. In the heat of battle, he risked his life to assist his wounded Sgt. Shroom (Vin Diesel). Although he was unsuccessful in saving Shroom, his actions were caught on camera and he became the face of courage and patriotism.
As Billy and his comrades, including Sgt. Dime (Garrett Hedlund), prepare for the halftime show, stand for the singing of the national anthem (thanks to American Idol alum Kellie Pickler) and eventually perform alongside Destiny's Child to tracks "Lose My Breath" and "Soldier," flashbacks from their time in Iraq are utilized to illuminate the horrors of war. Severe cases of post-traumatic stress disorder present themselves among the men and their painful experiences plague them at various intervals.
In the midst of their misery, their manager Albert (Chris Tucker) tries to score the squad a lucrative movie deal out of Dallas Cowboys owner Norm (Steve Martin), and they fraternize with the hired cheerleaders. Of the pom-pom clad ladies, it's Faison (Makenzie Leigh) who catches Billy's eye.
The element of Billy Lynn that resonates with viewers most is the manner in which it conveys the treatment of troops and the unforgiving, incapacitating nature of PTSD. The bang of a fist on a table or burst of fireworks pelt Billy and the Bravo Squad with memories, instantly recalling battle. Their brains associate seemingly harmless sounds and everyday sightings with disturbing occurrences seared into their minds from their time in Iraq. They're shell shocked, frozen in a state of paralysis and consumed by the atrocities that they've witnessed and/or taken part in.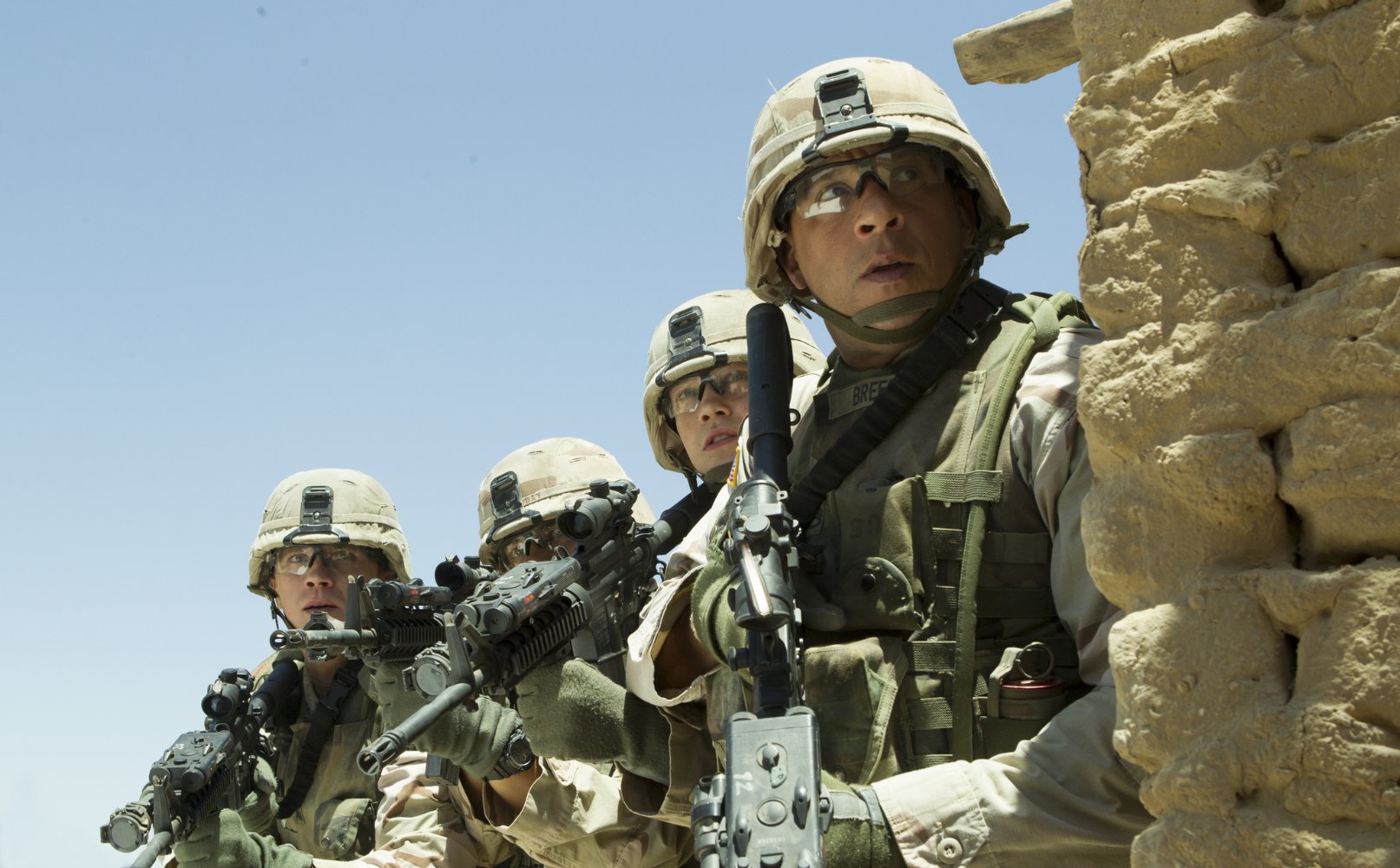 What's particularly disheartening is the lack of empathy displayed by those who are quick to parade the soldiers around and place them on a pedestal for their patriotic performances, but just as quick to disregard the notion that a war vet may need special psychological attention.
Their feats and victories — usually in the form of towering kill counts — are publicly celebrated. But when PTSD surfaces to suffocate them, support is a scarce resource and when sought, frowned upon. Heroism is returning to the battlefield rather than addressing their haunting wartime recollections with the help of a trained professional, and although this is likely reflective of reality in a Bush term, the gravity of such a bleak societal statement isn't diminished.
The groundbreaking technology used in the film makes for compelling imagery and a viewing experience some audiences members will relish. With five times as many frames per second as the typical film, the extreme high quality of the shots pronounces even the most miniscule details. One's senses are heightened as a result of the crispness and vibrancy, which gives Billy Lynn a bold, physical presence. But it also lends itself to a dizzying effect at moments and paints certain actors — especially Steve Martin — with a face that looks more like plasticine than human flesh.
On the note of actors, the performances in Billy Lynn justify praise, specifically Joe Alwyn's portrayal of the title character. He wrestles with his wartime experience and rails against the stranglehold of his PTSD symptoms. He struggles to maintain a sense of stoicism that he feels obligated to uphold, and it's evident that his inner turmoil eats away at him. Billy is tempted to accept his sister Kathryn's (Kristen Stewart) offer to visit a professional for help, but fears how his brothers in arms will respond to such a demonstration of "weakness" or declaration of "defeat," and Joe conveys this internal tussle with subtlety and sensitivity.
Kristen plays Joe's concerned sister with conviction — even though their sibling relationship seems questionably romantic, especially at the film's beginning — and Garrett Hedlund excels in the role of hard Sgt. Dime, drawing on intensity and fiery aggression while also imbuing a sense of protection over the men in his squad.
The other performers do their parts justice, including the ladies standing in as Beyoncé, Kelly and Michelle.
Billy Lynn's Long Halftime Walk is not a flawless film, but Ang provides compelling commentary on a powerful truth with poignancy. When soldiers return from war, they struggle to reintegrate into a society that can't situate them. The tendency is to toss them back into the throes of battle because people view a helmet as the only hat a soldier can wear.
Towards the end of the film, members of the Bravo Squad prove that their perceptions of themselves and their place in the world is rooted in the army. "Take us someplace safe, take us back to the war, take us home," they proclaim. They're imprisoned by the profile society has produced for them, finding comfort only with a gun in hand, and that is the sad statement viewers are armed with as they walk out of the theater.
If you've seen Billy Lynn's Long Halftime Walk and would like to rate/review it, click here. ~Matthew Pariselli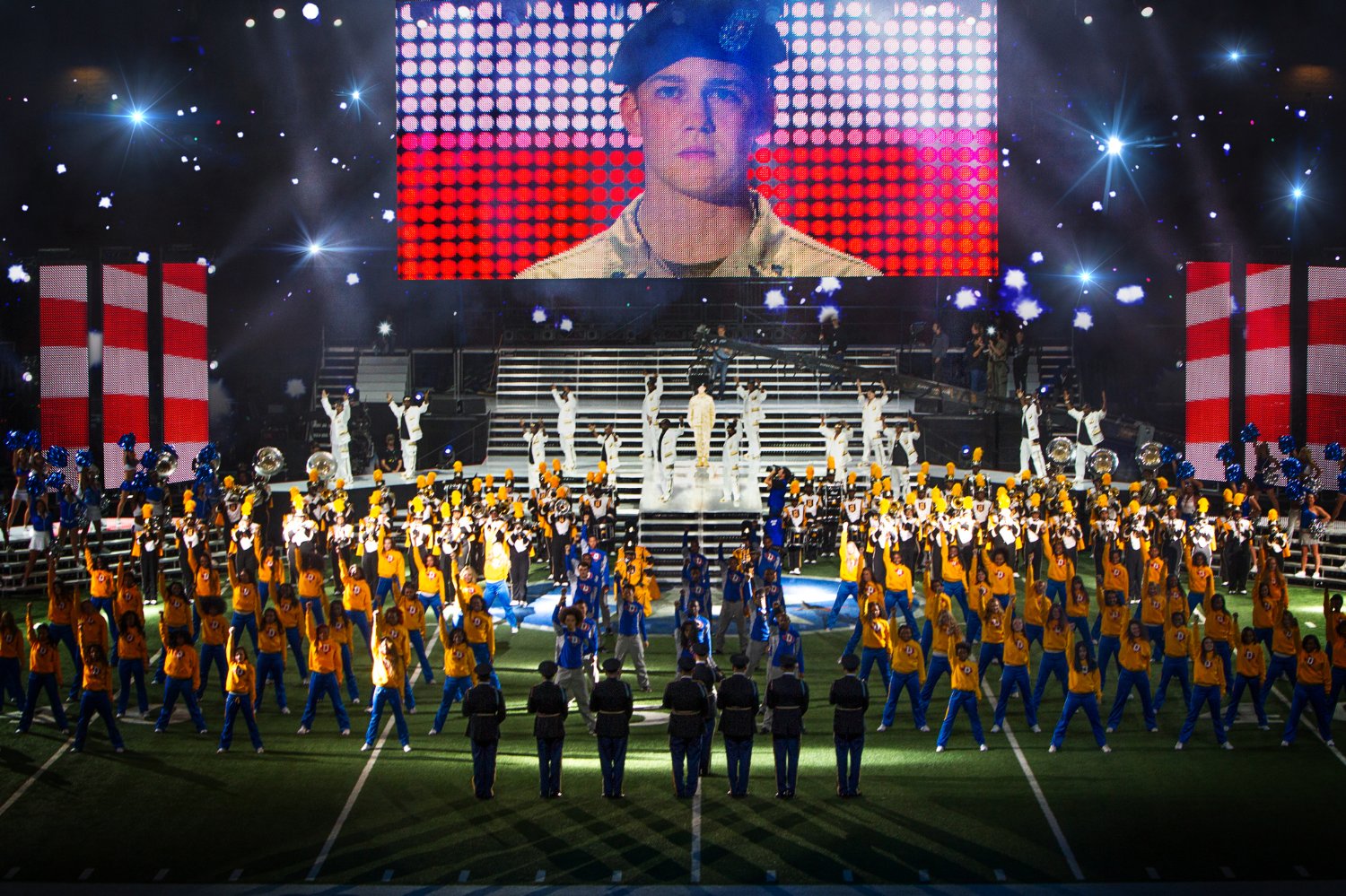 ---
---
---
---
Similar Articles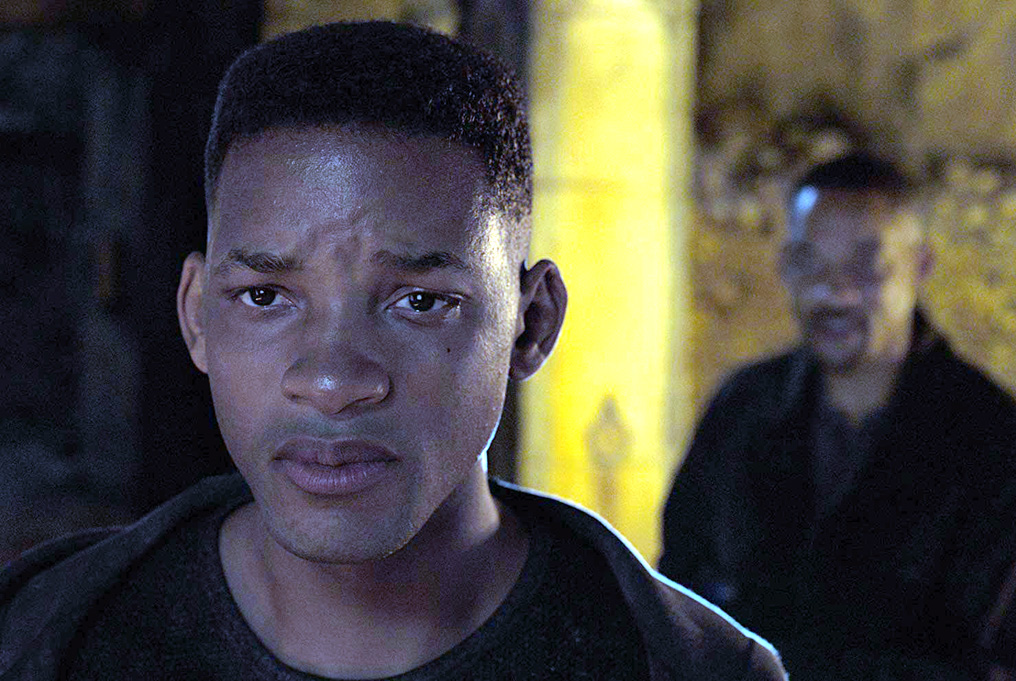 January 17, 2020 | Leave a Comment
Technical supervisor Ben Gervais talks about the technology in Gemini Man, working with Ang Lee and the future of filmmaking. Read the interview here.
---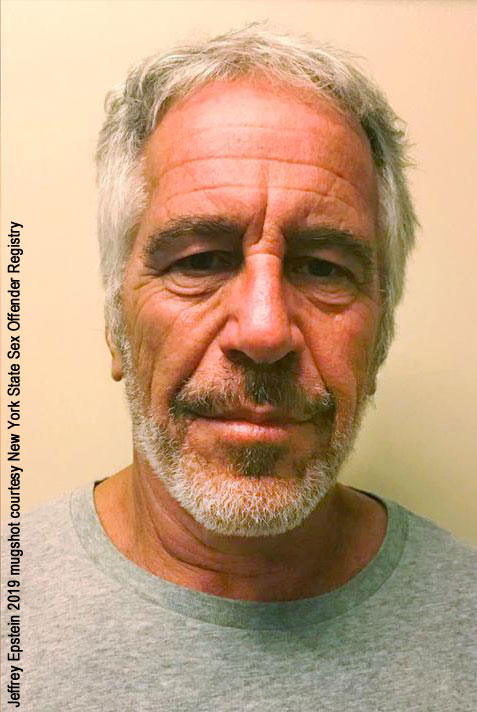 August 10, 2019 | 7 Comments
Jeffrey Epstein, who had ties to many celebrities and politicians, including President Donald Trump and former president Bill Clinton, is dead of an apparent suicide.
---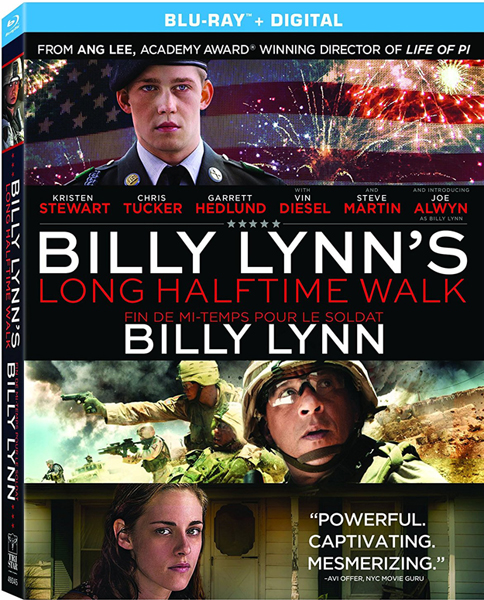 February 14, 2017 | Leave a Comment
This week offers a great selection of DVDs and Blu-rays, including Oscar Best Picture nominee Arrival, Billy Lynn's Long Halftime Walk, Priceless and more.
---