Bitter Harvest director George Mendeluk talks filming in Ukraine
By Alexandra Heilbron on March 9, 2017 | 3 Comments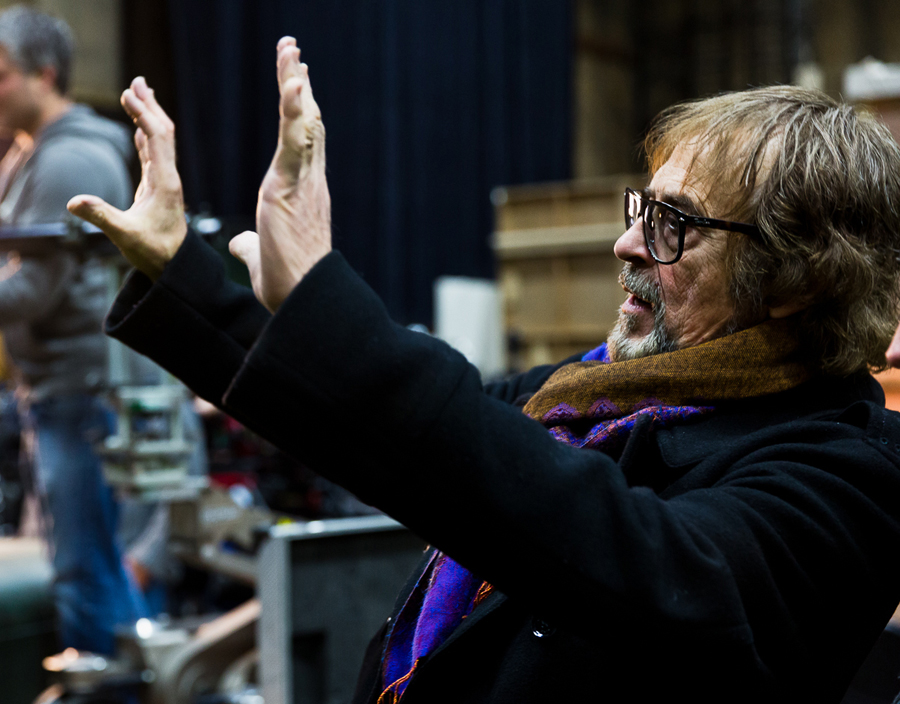 Canadian/Ukrainian director George Mendeluk spoke to us during a stop in Toronto to promote his newest film, Bitter Harvest, which sold out during its successful opening weekend (March 3 to 5).
This Friday (March 10), Bitter Harvest expands across Canada.
George, whose parents were in Ukraine during the Holomodor (forced starvation of the Ukrainian people), tells us about his family's experience and how they escaped to Canada.
This historical period works as the backdrop for a love story between two young people played by Max Irons and Samantha Barks.
Bitter Harvest takes place from 1932 to 1933. What did your parents tell you about their time there?
My father didn't actually go through the famine because he was in the western part of Ukraine but my mother grew up in Kharkiv and she used to go to school and there would be kids begging on the street for food. And then when she came back in the afternoon, many of them were lying dead on the sidewalk.
How was the Holomodor kept secret?
There are several reasons but the big one was that during the apex of the Holomodor when people were dying, the New York Times had a writer called Walter Duranty and he was very much respected and revered. He won the Pulitzer Prize for "reporting in Russia." He would say there is no famine, there's malnutrition. Meanwhile, an investigative reporter named Gareth Jones from Wales actually wrote the true accounts in the newspapers because he hiked through Ukraine at the height of the Holomodor. But because Duranty was a Pulitzer Prize winner and had the backing of the New York Times, no one listened to Jones. Even British journalist Malcolm Muggeridge wrote that it was a famine and that Duranty was the biggest liar he had ever met.
Bitter Harvest has premiered in several cities. What kind of feedback have you gotten and how is it doing?
It's Number 2 at the box office in Kiev right now. It's doing really well. I've been to all those premieres and there's literally not a dry eye in the house. And not just from Ukrainians. London had an incredible mix of people and they were crying. They'd never heard of anything like this before. And this is a romance, too, it's not a dry documentary by any means. We see the Holodomor through the eyes of our two lovers — Max Irons and Samantha Barks. The theme is really that love conquers all, even the worst kind of evil. That's the theme that I would like people to walk away with — an uplifting one.
Speaking of the romance, Max Irons and Samantha Barks are phenomenal in the movie. How did you come to cast them?
I was in London and Samantha read the script and she loved it. And so did Max. As a filmmaker or an actor it's not often you get to do movies that are important — that people think about when they go home. I think Max arguably delivers one of the best performances of his career. He's really a fine, fine actor — both of them are great. As we were coming to the end of filming, war broke out. We didn't make this movie to exploit what's happening — the Soviet attack on Ukraine happened right as we were filming. The movie parallels what was happening. When we went back to get some additional shots, we found out one of the actors in the movie, he was a reenactor, he was on the front lines and was killed.
I liked the introduction of the little boy at the end, he brings a sense of hope to the movie.
Thank you for saying that. The little boy, his name is Lupko, represents hope. Unconditional love. I like dealing in symbols and I like the audience to put it together. The boy who plays Lupko is a fine young actor — Jack Hollington is his name.
I also enjoyed the bucolic scenes at the beginning, where we see the horses playing and the children swimming. The shots were just so beautiful.
I've got a wonderful cinematographer, Doug Milsome, who was one of Stanley Kubrick's go-to cinematographers and if you remember his period movie Barry Lyndon, they used candlelight to light the interiors because it gives an antique warm glow and Dougie was focus puller on that. So we used candles in our interiors. Some of those cottages were 150 years old — people lived and died and suffered in those cottages that we shot in.
What plans do you have for future films?
I want to foster more movies in Ukraine, I've got other films that I plan to do that show Ukraine's indomitable spirit, their soul, their culture, their love for family, the love for the arts. It's a very mellifluous language. The world should know about Ukraine.
I have a couple of ideas. One is a dramatic musical about how my mother and aunt met their respective husbands after the Holomodor. My father was the director of the Stanislavsky Dance and Opera ensemble. He put on plays in the work camps and the displaced camps where I was born. It's the story about how my parents met and lived and escaped to Canada.
And you mentioned hope, which I'm so glad you did because I want to give Ukrainians hope. They're just going crazy over this film. They need hope right now and they need people in the Western world to know they're not part of Russia. They're a separate culture. They've been around since 600 AD. Russia wasn't even mentioned at that time in any of the literature or the testaments. Russia came out of Ukraine. Not the other way around. Ukraine gave Russia life. And now they're trying to take the Ukrainian way of life away.
I want people to know that it's as much a love story as it is a story about the Holodomor. It's very emotional. We're getting tremendous reaction from a wide range of people, whether they're in their teens or even in their 80s and 90s. I sat beside a Holodomor victim at the Ottawa premiere there and she was just glued. When the lights came on, she thanked me. And I said, "This film's for you. Dedicated to you."
Click here to read our review of Bitter Harvest. ~Alexandra Heilbron
---
---
---
---
Similar Articles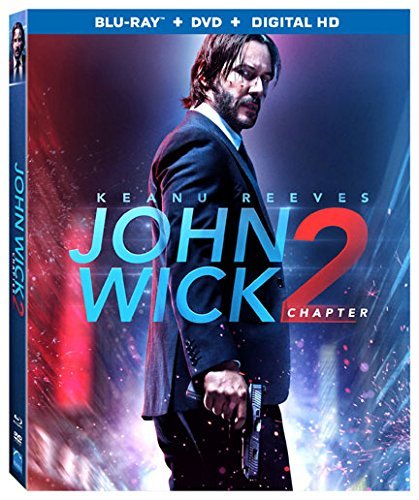 June 13, 2017 | 1 Comment
This week's selection of new releases on DVD and Blu-ray include John Wick: Chapter 2, the family-friendly The LEGO Batman Movie, Bitter Harvest and more.
---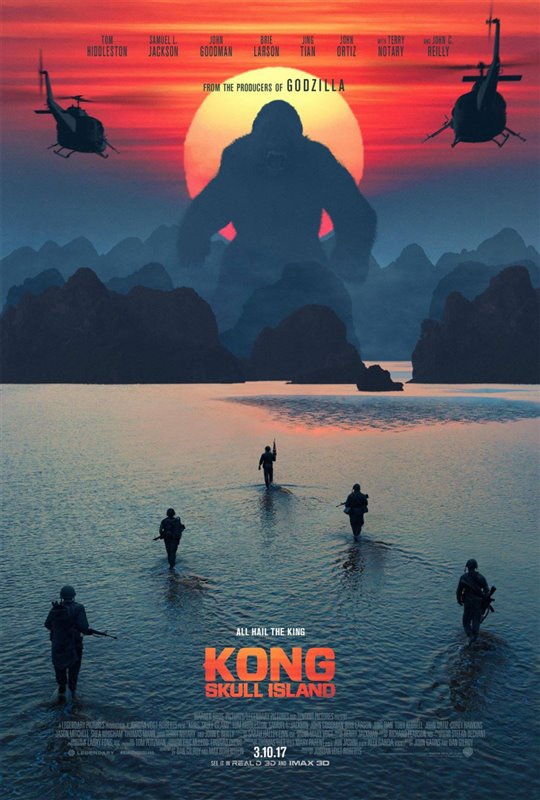 March 10, 2017 | Leave a Comment
Get ready for an enormously epic adventure in Kong: Skull Island, new in theaters today. Be sure to check out the full list of new movies this weekend!
---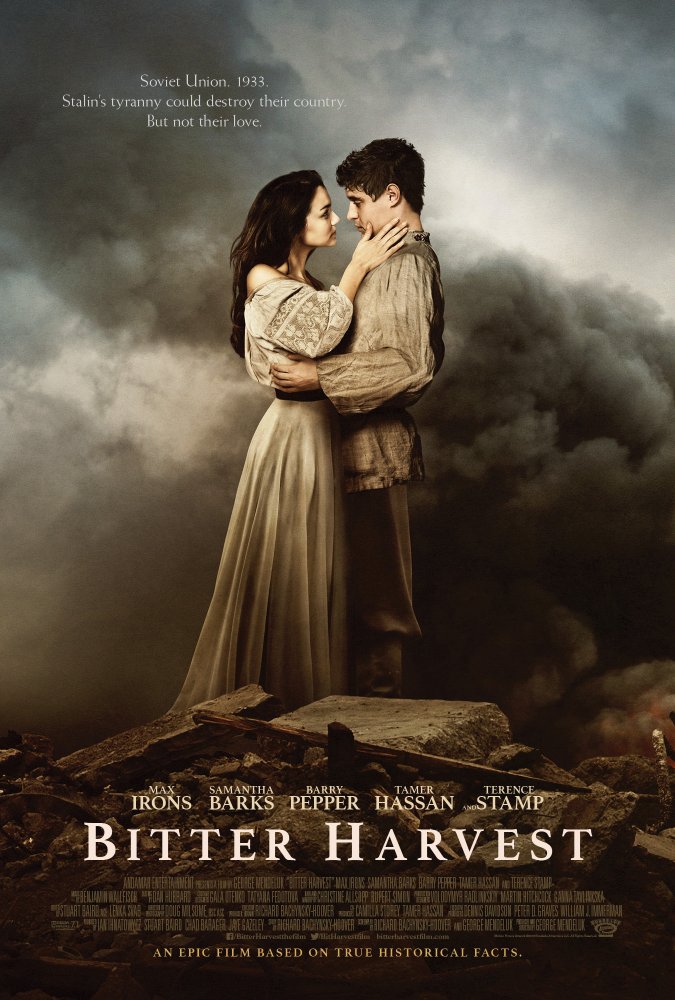 March 3, 2017 | 1 Comment
Bitter Harvest tells the love story between Yuri (Max Irons) and Natalka (Samantha Barks) set during the backdrop of the Holomodor, a mass forced starvation.
---