Blockers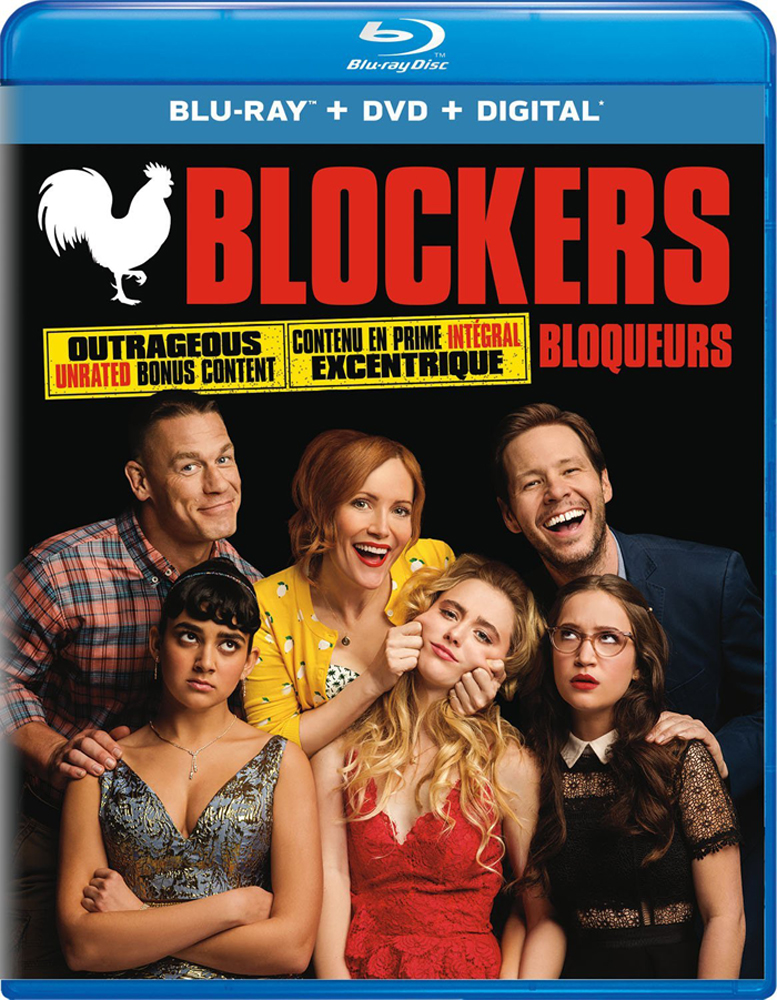 follows three overprotective parents and their comical, heartfelt relationships with their daughters.
Parents Lisa (Leslie Mann), Mitchell (John Cena) and Hunter (Ike Barinholtz) discover, through a very funny emoji deciphering scene, that their kids have devised a plan to lose their virginity by way of a sex pact on prom night. Alarmed by this news, the parents decide to disrupt the prom in order to protect their daughters' virginity.
At the same time, we follow teen daughters Sam (Gideon Adlon), Julie (Kathryn Newton) and Kayla (Geraldine Viswanathan) as they experiment with drugs and alcohol and flirt with their dates at prom.
Blockers was directed by Kay Cannon, the writer of the Pitch Perfect films as well as the Netflix original series, Girlboss. A common theme of Cannon's work includes a strong, often gifted female protagonist, who lives on the fringe and ultimately overcomes adversity.
Blockers, Cannon's directorial debut, is no exception. One example of this familiar narrative includes the story of Sam and her struggle to come to terms with her sexual orientation. Cannon's directorial decisions were practical and comical, considering the genre. The many close-up shots of the actors' contorted expressions naturally enhanced the raunchy, slapstick humor.
Each actor was well suited for their respective roles. The most intriguing performance was certainly that of Ike Barinholtz, playing Hunter, the shamelessly adulterous alcoholic. His character was more complex and rooted in reality. As a result, his performance was more humorous and authentic.
Mitchell (Cena) played the role of the dopey dad with expert comedic timing. He was made to cry on more than one occasion. This was inherently funny, albeit overused. Mitchell, representative of just how embarrassingly oblivious the contemporary dad really is, evokes the Greek muse of tragedy, Melpomene, more than Thalia (Greek muse of comedy), but when he cries you will most certainly laugh out loud.
The acting of the daughters was refreshingly sweet and believable, and some of their love interests were marvelously silly. Honorable mentions include Kayla's love interest "The Cook," who sported a handsome man bun and a cocky smirk.
The obvious difference between Blockers and other teen sex comedies is that it includes the teen female experience. One of the film's blatant messages was to bring attention to the hypocrisy of traditional gender roles. This aim was quite literally achieved by Mitchell's wife Marcie (Sarayu Blue). Her impassioned diatribe combined with their daughter Kayla's heartfelt speech that addressed her father's well-meaning but offensively antiquated ideas of women was noted. Subtlety and nuance were absent in Blockers, but subtlety is not sought out or a hallmark of this genre. Laughter is the goal here, and this film has laughter in spades. ~Ari Derin
The Blu-ray is packed with bonus features:
* Gag Reel – The truly hilarious mistakes the cast made while filming on the set. Get ready to laugh.
* Line-O-Rama: More blunders are recorded after the camera stops rolling.
* Rescue Mission: Leslie Mann, John Cena, Ike Barinholtz and Kay Cannon discuss their interesting experiences as parents in real life. The discussion includes a car explosion.
* Prom Night:  The cast discuss their own personal and provocative prom stories. Setting up the prom in the film is also discussed.
* The History of Sex with Ike Barinholtz: Ike Barinholtz is quite the sexual intellectual! Hear his thoughts on the history of human sexuality.
* John Cena's Prom Survival Kit for Parents: John Cena shows off a humorous survival kit filled with items that will help parents survive the prom.
* Chug! Chug! Chug!: Cam you chug through your butt? Hear cast, crew, and butt-chugger John Cena discuss how they performed the deed in the film.
*Puke-a-Palooza: Projectile vomit is not easy to authentically replicate. Hear what the cast and crew did to make it look as real as possible.
*Deleted Scenes & Director Commentary
If you have seen Blockers and would like to rate/review it, click here.